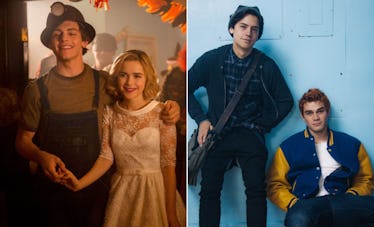 A 'Riverdale' & 'Chilling Adventures Of Sabrina' Crossover Movie Might Actually Happen
Netflix, CW
Netflix's new teen horror series Chilling Adventures of Sabrina may take place only a few miles away from the troubled town of Riverdale, but its debut season only made a few brief mentions of its sister series, Riverdale. Although we have not seen a major crossover between the two shows yet, it sounds like there may be a big crossover event brewing to bring Sabrina Spellman and the Riverdale gang together. The showrunner for both series just teased to Entertainment Weekly that a Riverdale and Chilling Adventures of Sabrina crossover movie could be in the cards.
Since both Riverdale and Chilling Adventures of Sabrina originate from the long-running Archie Comics and are being helmed by the same creative team, many fans have been speculating about when and how the two shows might overlap. Riverdale has mentioned Sabrina's town of Greendale a handful of times and Sabrina mentions Riverdale a few times as well, and there was talk about Sabrina Spellman possibly appearing on Riverdale ahead of her own series, but that fell through. The only bit of crossover magic that Chilling Adventures of Sabrina's first season delivered was a seconds-long non-speaking cameo by Riverdale side character Ben Button — fans are still waiting for a true crossover that includes both shows' main characters.
Luckily, it sounds like that major crossover event is being discussed. Roberto Aguirre-Sacasa, the executive producer for both Riverdale and Chilling Adventures of Sabrina, said he is excited to bring the two shows together somehow, and even brought up a couple ideas for what a crossover might look like:
I would hate if there was no way possible for there ever to be a crossover. I think there'd be a great episode where the Riverdale kids hear about a haunted house in Greendale and try to break in and it's Sabrina's house. There's totally a universe where that happens. Or now that we've got Sabrina and Riverdale, maybe there's a standalone Afterlife movie or something that we can do combining both casts.
The possibility of a standalone, crossover movie definitely sounds like the most exciting concept for bringing Riverdale and Chilling Adventures of Sabrina together, and since both shows have deals with Netflix, it feels like a real option. Roberto Aguirre-Sacasa mentioned that his initial idea for this movie would revolve around the 2013 Afterlife with Archie comics series, which makes sense as a way to introduce Sabrina to the Riverdale crew.
Roberto Aguirre-Sacasa actually wrote the Afterlife with Archie comics, which depict the town of Riverdale in an alternate reality during a zombie apocalypse. The zombie horror story kicks off when Jughead's dog Hot Dog dies, and he asks Sabrina to use her magic to bring him back to life. The forbidden magics lead to a zombie outbreak in Riverdale, while Sabrina is banished to the Nether-Realm.
Since Afterlife is canonically set in an alternate reality, it would be a perfect one-off adaptation where fans can finally see Sabrina interact with everyone from Riverdale without the worry of it affecting each show's primary storyline at the time.
Right now, Roberto Aquirre-Sacasa says that this idea is just a pipe dream, but he sounds as committed to making this crossover happen as the fans.