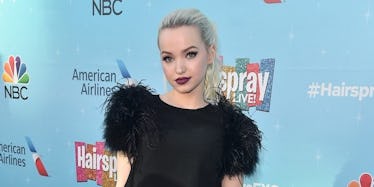 Dove Cameron Hints At Possible 'Riverdale' Role And We're Freaking Out
Alberto E. Rodriguez / Getty Images
Sabrina The Teenage Witch could be coming to Riverdale, and now we have an intriguing clue as to who might be portraying the iconic comic book role. A recent Instagram post is causing quite the frenzy, leaving fans asking: Will Dove Cameron be on Riverdale? And, is she going to play Sabrina Spellman?
Dove Cameron, best known for Disney's Descendants and Liv and Maddie, hasn't been shy about her affinity for Riverdale and its cast. She even admitted that she would be totally down for being on the show. But who would she play? As far as the Archie universe goes (especially the blondes, assuming appearance won't change drastically), Sabrina The Teenage Witch is a total possibility. And Dove's giving us all the more reason to believe she's heading in that direction, thanks to a recent social media post that features what appears to be the character in question.
Dove is busy with new and exciting projects, like the upcoming Jennifer Aniston comedy Dumplin', but we're hoping she has room on her plate for the hit TV show. The character of Sabrina is an interesting one because it already has a built-in fan base, or at least some familiarity, due to the ABC standalone sitcom of the late '90s/early '00s. We're guessing Melissa Joan Hart won't be coming back to revive it, so there's an open slot just waiting to be filled.
Showrunner Roberto Aguirre-Sacasa has spoken about bringing Sabrina Spellman to the series in the past, but introducing her is trickier than one would think. He previously told ComicBook.com:
The truth is, we did talk a lot about introducing Sabrina, but she's such an important character and it's such a big idea to introduce the supernatural into a natural world that honestly when we got to the finale — it was before that, it was maybe a couple of months before that — we kind of realized that there was so much stuff to play that if we introduced Sabrina, it would kind of overshadow everything that we had planned.
Ah, so Sabrina would bring the supernatural elements... We're ready for it. And from the looks of Aguirre-Sacasa's spoiler-tastic tweets, more darkness is coming to Riverdale for Season 2. Does that include witches and magic? Time will tell, folks.
As far as Sabrina's on-screen future goes, we think Dove is up to the bewitching challenge.