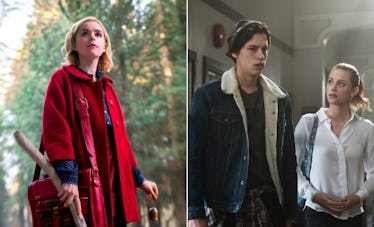 This 'Riverdale' Character Actually Appears On 'Chilling Adventures Of Sabrina'
Netflix, CW
Fans had been wondering about whether Chilling Adventures of Sabrina would include a crossover with Riverdale ever since Netflix's Archie Comics spinoff was announced last year, and now that the spooky series is here we finally know the answer: it does! Well, there is nothing super major like Archie, Betty, Jughead, or Veronica stopping by Greendale, but one pretty significant Riverdale character does make a shocking appearance towards the end of the season. Riverdale's Ben Button appears in Chilling Adventures of Sabrina, and his brief cameo is actually a massive deal for anyone watching Riverdale.
Spoiler alert: This post includes details from the first seven episodes of Chilling Adventures of Sabrina and the first three episodes of Riverdale Season 3. The creative team and casts of Riverdale and Sabrina consistently dashed fans' hopes when asked about a potential crossover between the shows ahead of Chilling Adventures of Sabrina's premiere, saying that there were no plans for a crossover. And while it is true that Sabrina did not include a major Riverdale crossover, there actually was a small cameo that left a big impact.
Towards the end of the seventh episode of Sabrina, the demonically possessed Ms. Wardwell orders a pizza, and the delivery boy is none other than the enigmatic Riverdale character Ben Button.
Ben's appearance is shocking for a couple of reasons. As the only character to appear in both Riverdale and Chilling Adventures of Sabrina thus far, his cameo plays a big part in connecting the two sister series. But the the most surprising part of Ben showing up at Ms. Wardwell's door is that we just saw him die on Riverdale!
A week before the premiere of Chilling Adventures of Sabrina, Riverdale's second episode of Season 3 ended with Ben jumping out of a hospital window to his death. Before he jumped, he told Betty and Jughead that he was not afraid to die because the mysterious Gargoyle King has some sort of plan for him. Now that we see him alive and working for a pizza place in Greendale, fans have even more questions about what could be going on. Did Ben survive his fall somehow? Why did he relocate to Greendale? Is it possible that he could be a ghost or something?
Unfortunately, if Ben really was alive when he brought that pizza to Ms. Wardwell's door, he probably isn't anymore — Wardwell seemed more interested in chowing down on Ben than on that pizza. The scene was also very reminiscent of one of the few times we saw Ben earlier on in Riverdale. At the beginning of Season 2, we found out that Ben had actually travelled to Greendale before to take piano lessons from the ousted Ms. Grundy... and to hook up with her as well. It looks like Ben may have had the same idea about Ms. Wardwell when she invited him in.
Hopefully we will be able to find out the truth about Ben's miraculous recovery and new pizza delivery job in future episodes of Riverdale or Sabrina. And who knows, that could lead to even more crossovers!