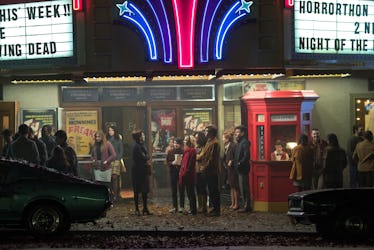 The 'Chilling Adventures Of Sabrina' Opening Credits Are Deliciously Spooky
Netflix
Chilling Adventures of Sabrina premieres this weekend on Netflix with a 10-episode first season. But it wasn't originally envisioned this way. Producer, writer, and showrunner Roberto Aguirre-Sacasa, who also holds those titles over on Riverdale, initially meant for Sabrina to be a spinoff running on The CW, probably directly after Riverdale. The show clearly underwent changes when it landed on Netflix instead (like the episode lengths), but the Chilling Adventures Of Sabrina opening credits, which appear at the very top of each episode, are a delightfully devilish holdover from the show's planned broadcast roots.
Some fans might think the show's title, Chilling Adventures of Sabrina, is just a cutesy way of renaming the more mainstream variation of Sabrina: The Teenage Witch. The latter was the title of the original comics and the 1990 TV show, which was adapted from them. But this is not actually true. In fact, it was the Archie comics themselves that rebranded her story with the title, back in 2014.
Written at the time by Aguirre-Sacasa and illustrated by artist Robert Hack, it's this version of the story the Netflix show pulls from. And since Aguirre-Sacasa is the showrunner for the new series, it was only natural he would want to bring Hack along to illustrate a credit sequence to tie the show and the comics together.
It's always interesting to note who from the cast gets placed "above the fold," as it were in these credit sequences. Star Kiernan Shipka (formerly of Mad Men) is naturally at the top of the list as Sabrina Spellman. Ross Lynch, who plays her boyfriend Harvey is second billed. Then it's Lucy Davis (Wonder Woman) as Aunt Hilda who is named next, but not Miranda Otto (Homeland) as Aunt Zelda. Otto and Richard Coyle (The Collection), who plays Father Blackwood are held as special "with" stars, put at the credit's end where they will stick out more.
Also listed: Chance Perdomo as Ambrose, who is being hailed in early reviews as the breakout star and Michelle Gomez (Doctor Who) who plays teacher Mary Wardwell are the two adult cast members who get credited along with Hale.
Jaz Sinclair who plays mortal friend Rosalind Walker is the first named as part of Shipka teenage crowd of peers, but not Lachlan Watson, who plays Susie. Also, Tati Gabrielle (The 100) and Adeline Rudolph are both listed as Weird Sisters Prudence and Agatha, but not Abigail Cowen who plays the third sister Dorcas.
Chilling Adventures of Sabrina takes place in the town of Greendale, just across the Sweetwater River from Riverdale. With one show on The CW and the other on Netflix, it's hard to say if there will actually be a successful crossover arc between the two shows. But the good news is Sabrina already has a second season guaranteed, which is already filming with a 2019 release date planned. So fans can tune in knowing this series will be more than just a one-and-done.
Chilling Adventures of Sabrina arrives on Netflix with 10 episodes on Friday, Oct. 26, 2018.