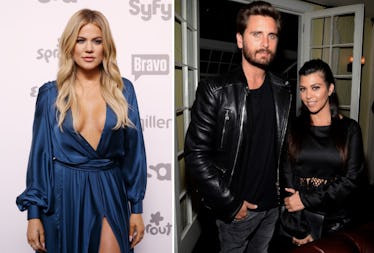 Khloé's Quotes About Kourtney & Scott Reveal She's Conflicted About Them & Honestly, Same
Robin Marchant/Getty Images + Chris Weeks/Getty Images
Hold onto your hats, everyone — it sounds like Kourtney Kardashian and Scott Disick might be destined to get back together someday?! ICYMI, in the April 28 episode of Keeping Up With The Kardashians, the sisters visited a spiritual healer during their family trip to Bali. Kourtney revealed to Khloé and Kim that the guru said she and Scott were "soulmates" and "have to decide whether [they] want to be together or not be together." Now, if you've heard any of Khloe Kardashian's quotes about Kourtney Kardashian & Scott Disick over the past 10 years, you know that her feelings about this are probably complicated, to say the least.
When Kourtney shared this "soulmate" revelation with her sisters, both Khloe and Kim looked stunned. After all, Kourtney and Scott have been broken up since 2015, although they maintain a (mostly) friendly relationship for the sake of their three kids. And Scott has been with his current girlfriend, Sofia Richie, for well over a year now — so a reunion with Kourtney seems unlikely, at least for the time being.
But what does younger sister Khloé think about the former couple? Even though she obviously adores Kourtney, Khloé has kept up a fairly close friendship with Scott in the years since the split. Never one to mince words, though, she has always been vocal about her feelings regarding these two. Khloé's quotes reveal she doesn't always know what to think of Kourtney and Scott… but she loves them both regardless.