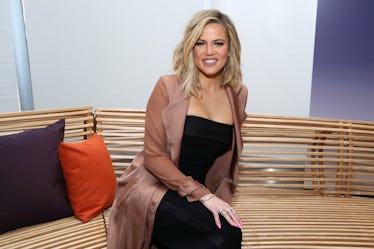 Khloé Kardashian's Father's Day Post Is So Low-Key & I Have Some Questions
Cindy Ord/Getty Images Entertainment/Getty Images
Father's Day is a special time to celebrate the men in our lives, but sometimes not all men necessarily deserve praise. Even though it appears that the infamous Kardashian-Thompson saga is coming to a close, Khloé Kardashian's Father's Day post hints that there might still be some tension. Honestly, who even knows at this point.
On June 17, Kardashian took to Snapchat to share a very interesting Father's Day tribute. In the photo, Kardashian and Thompson's daughter, True Thompson, is seen in a baby carrier (while rocking an adorable pink headband might I add), and she's clutching Thompson's hand. The photo might be cute, but it is a bit odd how low-key it is considering its her and Thompson's first Father's Day together. We may be able to make out True and Thompson's hand in the picture, but the entire image is extremely dark and a little bit hard to see. Plus, the average Father's Day post usually includes a sappy caption or two, but the fact that Kardashian only added a very blunt and straightforward "Happy Father's Day" to the photo, without any exclamation or even emoji, raises my eyebrows a little bit. Perhaps this is just a coincidence, or maybe it's the new mom's way of throwing some subtle shade at Thompson on his supposedly special day? These two always keep me guessing.
The couple welcomed baby girl True Thompson into the world on April 16, and everyone was so happy for Khloé. Her birth happened just days after videos surfaced of Thompson allegedly kissing multiple women while Kardashian was at the end of her pregnancy. Elite Daily reached out to Kardashian and Thompson's teams for comment at the time, but did not hear back. To no one's surprise, things were definitely shaky for the couple at first, but as of recently the couple have been attending public events together and even posting simultaneous Instagram stories.
Perhaps Thompson didn't get the warmest Father's Day post on social media, but I'm happy to report that Khloé Kardashian had a completely amazing Mother's Day on May 12. Fans got a first glimpse into the new mom's special plans via her app, which explained that even though she's always loved Mother's Day this year will be extra special now that she has a little girl of her own.
She wrote,
I've always loved Mother's Day and celebrating Kris Jenner, [grandma] MJ and my sisters — but this year will be even more special because now I'm a mommy, too! As of now, there aren't any special plans (that I know of, LOL). I'm really enjoying spending quality time with True and loving just hibernating with her.
I'm not crying, you're crying.
Then, just to make those emotions go into overdrive, Kardashian took to Instagram to share photos of a special Mother's Day bouquet, which featured a beautiful assortment of pink and white roses that spelled out "mommy." Along with the photo, Kardashian added a sweet caption that read "I feel so loved," and I have to admit that's what drove me over the edge.
I personally love how perfectly understated Kardashian celebrated Mother's Day. After all, nothing can quite top the extravagance that was her baby shower. On March 10, everyone's favorite momager Kris Jenner gave us a special look into Khloé Kardashian's baby shower bash, and I still have a serious case of FOMO. Not only are there two life-size elephant topiaries, but the pink roses and balloons decorating the neon room makes me want to dance all night long.
No matter how Kardashian and Thompson are doing as a couple, it's nice to see they can set their problems aside for the sake of their daughter.
More to come.