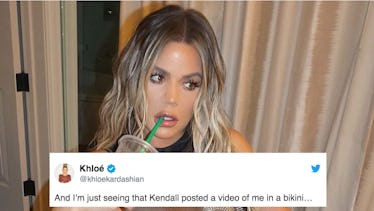 Khloe Kardashian's Comments About Her Bikini Pic Post Baby Show How Down To Earth This Mama Really Is
Instagram / Khloe Kardashian
I'm always giving it up to Khloé Kardashian. Despite her extraordinary life and the extraordinary circumstances surrounding her, the youngest Kardashian sister always finds a way to keep it real with her fans. Major followers know how important physical and mental health is to her and have been "keeping up" with her gym journey after the arrival of her firstborn baby, True. In a recent picture posted by her little sister Kendall, it looks like Khloé's bod is all the way back into pre-baby shape. However, Khloé's saying, "Not true." Khloé Kardashian's comment about her bikini pic post baby are so refreshing and once again very down to earth.
Baby True was born on April 12, 2018 and came out just perfect as pie. Throughout her pregnancy, Kardashian was vocal about how excited she was to get back to her regular work out routine and has slowly been posting gym updates on her social media. On July 1, Kendall Jenner posted a video of Khloé laying by the pool in a smokin' yellow bikini causing fans to cry "Bravo!" The image worked up a little bit of a stir on social media and eventually got back around to Khloé. On July 3, Kardashian tweeted, "I haven't been on Twitter in a couple days and I'm just catching up on a couple of tweets..."
She then took a minute to talk about some baby toy fans were loving before getting around to Kenny's video. According to Kardashian, the image was an illusion thanks to her sister's angle and camera placement. Kardashian tweeted:
I'm just seeing that Kendall posted a video of me in a bikini… Thank God she knows her angles LOL cuz I do not look like I did in that video LOL laying down is a game changer. I had an hour to hang with Kenny while True was napping.
Look. Whatever. She looks fierce AF.
Check it out:
According to Kardashian, it actually bothers her when people say she's lost an extreme amount of weight since giving birth. Earlier in June, Kardashian tweeted, "I truly dislike when people report I've lost a tremendous amount of weight in a short amount of time or when people claim I'm doing these ridiculous diets." She says it "sets the wrong tone" and that her focus is more on a healthy lifestyle rather than weight loss.
She also commented on dieting and how it can be helpful in the short term but in the long run she feels it typically doesn't yield lasting results. In true Good American-founder fashion, Kardashian says "there's no one size fits all."
This isn't the first time Kardashian's talked about her postpartum bod. She was first photographed after giving birth to True in early May by paparazzi in Cleveland and had some body positivity to share then, too. Kardashian commented on the pics in a blog post explaining, "I couldn't believe how big my booty looked," adding,
I'm actually proud of myself for not being as big as I assumed I would be, LOL—but I'm ready to start getting my body back and feeling mentally clear again... Bring on summer and the hard work—I got this!
Girl, yes ya do.
Despite the truly wild past couple of months, Kardashian seems to have just as clear a head and heart as ever. She and her baby's daddy, Tristan Thompson, are working through their drama after his reported alleged cheating scandal, and all fans can do is wish her continued health, happiness, and sunny pool days.
Check out the entire Gen Why series and other videos on Facebook and the Bustle app across Apple TV, Roku, and Amazon Fire TV.