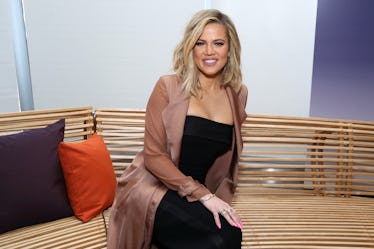 Khloé Kardashian Revealed The Big Reason She's Not Afraid To Go Into Labor
Cindy Ord/Getty Images Entertainment/Getty Images
Khloe Kardashian finally showed up on Twitter on April 9 to shut down all the rumors that she'd already given birth to the baby girl she's expecting with boyfriend Tristan Thompson. "I wish you were right," she wrote to her fans. And now I just feel so bad for her. It's got to be a pretty big bummer to be stuck sitting around waiting to have your baby while the whole world postulates that you've already had it, you know? But at least Khloé Kardashian isn't afraid of childbirth, and she explained the reason why on her app.
"I don't feel like I need to prepare for my birth by freaking myself out," the mama-to-be wrote. "I've seen over eight births live and in person."
OK, you know I love you, Khlo. But coming from a mother, watching someone give birth and actually giving birth are SO not the same. Mad respect for all that amazing confidence, though.
"Women were made to do this," the Revenge Body star continued. "It's a very natural experience. I read my apps every day and I ask my doctor if I have any questions, so I'm honestly not that afraid."
Way to Keep Up, girl!
"Of course I'm a little nervous to go into labor," Khloé admitted on her app. "But I'm trying to not overthink something that literally happens all the time."
It can't hurt that she also has her big sis Kim Kardashian to hit up for the inside scoop.
"Khloé and I have a really good thing going on right now," Kim told Entertainment Tonight. "I'm like the real one with her [about] what goes down and how it's going to go down."
Annnnd, I have never wanted a sister more! Seriously, how cute is this? I am really, really jealous of their bond. And since Kim has three kids of her own and is basically an expert on all things motherhood, she knows better than to send her little sis into a panic by sharing too many insider details.
"You cannot tell her anything right now that's too sensitive because she's just so freaked out," Kim explained. "So, I can't really get into the whole, like, nipples and breastfeeding thing. She's just going to have to figure that all out and slowly. Right now isn't a time to freak her out. The closer it gets, you can't freak someone out. You have no idea and that's the beauty of it. You just have no clue and that's totally fine."
And at the end of the day, Kim has all the confidence in the world that her baby sis will be just fine. "She's seen all of us go through it," she said. "She's prepared."
Mama Bear Kris Jenner has also been dishing out the baby advice. "I give her so much advice [that] she's sick of me," the matriarch told ET. "We all give her advice because, you know, most of us have had a child or two in this family."
BAHAHAHA #Truth.
Meanwhile, we still don't know KoKo's official due date, but it really should be any day now. To pass the time, Khloé revealed on her app that she's been going on long walks and binge-watching the show Billions. And on April 9, she posted the sweetest sepia-toned image of herself kissing Tristan, whose hands are wrapped around the adorable baby bump between them.
"We are ready whenever you are little mama," she wrote in the caption.
Aw! You've waited so long for this moment and I know you got this, Khlo! Best of luck bringing your sweet little girl into the world!