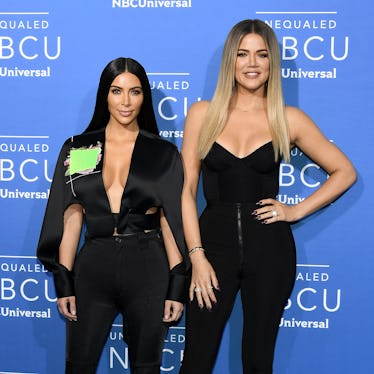 Kim K Gets Real About How She's Helping Khloé Through Pregnancy & It's So, So Sweet
Dia Dipasupil/Getty Images Entertainment/Getty Images
Khloé Kardashian may have been MIA in Kim's Snapchat videos over Easter weekend, but that doesn't mean the mom-to-be wasn't on Kim's mind. While rumors were swirling that the Revenge Body star's lack of social media presence over the last few days meant she may have already gone into labor or even given birth, KKW was busy revealing to Entertainment Tonight that's she's been KoKo's go-to for all the gory details about having kids. I don't have a sister so I'm super jelly about Kim Kardashian's quotes about Khloé Kardashian's pregnancy, even though I am seriously living for their bond.
"Khloé and I have a really good thing going on right now," Kim told ET. "I'm like the real one with her [about] what goes down and how it's going to go down."
Aw! I actually kind of love this because we don't usually get to see Khloé hitting up Kim for advice, and the whole role reversal thing they've got going on is pretty cool. Of course, even though Kim has three kiddos and is pretty much an expert on all things motherhood by now, she knows better than to send her little sis into a panic by sharing too much.
"You cannot tell her anything right now that's too sensitive because she's just so freaked out," Kim revealed. "So, I can't really get into the whole, like, nipples and breastfeeding thing. She's just going to have to figure that all out and slowly."
Don't worry, KoKo — I know you got this! And so, apparently, does Kim.
"It'll be fine," she explained. "She's seen all of us go through it. She's prepared, but I feel her and I are on a really good communication about everything. I know when to push it and when to... right now isn't a time to freak her out. The closer it gets, you can't freak someone out. You have no idea and that's the beauty of it. You just have no clue and that's totally fine."
Meanwhile, something tells me KoKo's gonna have to get herself a clue real quick, since it really does seem like she may have been busy going into labor over the weekend. See, we all know how much Khloé loves celebrating the holidays with her fam and posting videos on Snapchat and Instagram. And yet, she was totally absent from social media over the April 1 weekend, which is just so not like her.
Even more suspicious was the fact that she was also missing from all of her family's Easter festivity posts. Kim, Kylie, and Kourtney all shared Snapchat vids of the Kar-Jenner fam's beautifully decked-out Easter party filled with pink tulip centerpieces, golden money-filled eggs, live ducks and bunnies, and rainbow grilled cheese sandwiches.
But Khloé was nowhere to be found in any of the clips. In fact, the only thing she posted on Easter was a selfie on Instagram that was taken with a week-old Snapchat bunny filter. I see what she was trying to do there, but TBH, that pic was prob taken awhile ago so I'm kind of not buying it.
Doesn't matter anyway — I am just SO excited for Khloé to finally be a mom! She first revealed the news she was expecting a baby with boyfriend Tristan Thompson back in December via a stunning black-and-white post on Instagram:
"My greatest dream realized!" she captioned her stunning post on Instagram. "We are having a baby! I know we've been keeping this quiet but we wanted to enjoy this between our family and close friends as long as we could privately. Thank you all for understanding."
Obviously, Khloe-Money likes her privacy, so take all the time you need, girl! I'll just be over here waiting for you to finally find out about the whole "nipples and breastfeeding thing."