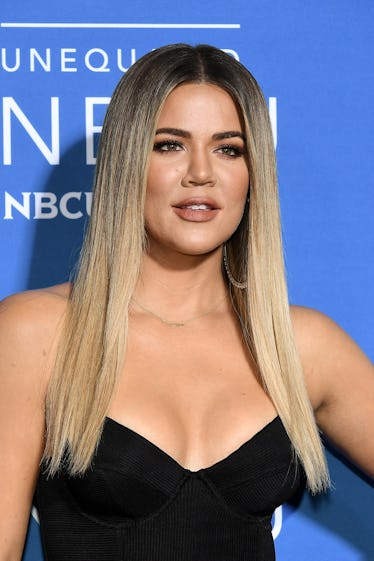 Fans Think There's A Huge Clue Khloé K Might Be In Labor & I'm Freaking Out
Dia Dipasupil/Getty Images Entertainment/Getty Images
Thanks to social media, there are a lot of things I know about the Kardashian-Jenner family's Easter celebration. I know Mama Kris decorated her foyer with a 10-foot tall flower bunny. I know the fam threw a major bash complete with pink tulip centerpieces, an inflatable slide, golden money-filled eggs, live ducks and bunnies, and rainbow grilled cheese sandwiches. I know Kim was there, and Kris and Kourtney were there, and even new mom Kylie was there, too. But there was one sister missing from the crew's video posts, and now I'm all suspicious. Is Khloé Kardashian in labor? Because I'm getting some major baby vibes here, you guys!
Here's the deal: We all know how much Khloé loves posting Snapchat and Instagram Live vids, and we know how much our girl loves to celebrate the holidays with her nieces and nephews. And yet, KoKo was totally MIA from all of the family festivities over the April 1 weekend, which is just so not like her.
Over on Snapchat, Kylie gave us a tour of the Kar-Jenner fam's beautifully decked-out Easter party that included close-ups of all the gorgeous decorations and pastel desserts. She also shared videos of herself with Kris and BFF Jordyn Woods using a cute bunny filter, and then gave us the sweetest glimpse of her baby daddy, Travis Scott, holding baby Stormi.
I may or may not have just played that clip 40 times.
Oh, and here's Travis with that massive 10-foot bunny I was talking about:
Kim shared videos from the party of live bunnies, as well as some shots that featured the kiddos playing around in a backyard petting zoo while North held a seriously cute 4-day-old duck.
Kourtney shared her own Snaps of the cute little duckies as well:
But Khloé was nowhere to be found in any of the clips. Not only was she persona non grata in all of her sisters' videos, but the only thing she posted on the holiday itself was a generic selfie using a bunny filter on Instagram that simply said, "Happy Easter." Is the bunny filter a good trick? Sure. But that particular bunny filter showed up on Snapchat about a week before Easter and is no longer even available, so Khlo-Money could have taken that pic at any old time and then had her assistant upload it to throw us all off the trail. Pretty sneaky, sis, but I am SO onto you!
Here's the more current bunny filter that Kylie used in her Easter video with Kris:
Pretty sure Khloé would have been all over that one if, you know, she wasn't busy having a baby or something. Makes total sense, right? Even her fans over on Twitter seem to agree:
Seems like a pretty open-and-shut case to me.
The Revenge Body host first revealed the news she was expecting a baby with boyfriend Tristan Thompson back in December.
"My greatest dream realized!" she captioned her stunning post on Instagram. "We are having a baby! I had been waiting and wondering but God had a plan all along. I know we've been keeping this quiet but we wanted to enjoy this between our family and close friends as long as we could privately. To enjoy our first precious moments just us ❤️ Thank you all for understanding. I am so thankful, excited, nervous, eager, overjoyed and scared all in one! But it's the best bundle of feelings I've ever felt in my life! ❤️❤️❤️"
Aww! I am just so excited for Khloé and can't wait to see how amazing she's going to be as a mom. But if she really is in labor, good on her for keeping this special time on the down-low. She's waited a long time to become a mama and deserves all the privacy in the world if that's what she wants. In the meantime, I'll just be over here refreshing my Snapchat feed for her next post every two seconds, okur?