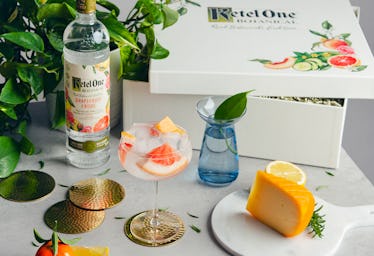 Ketel One Botanical's Friendsgiving Kit Is The One Thing Your Party's Missing
As excited as I am to eat homemade chocolate pecan pie, I can't wait to spend quality time with my friends this Thanksgiving. Even though we text all the time, there's something extra special about dedicating an entire day to giving thanks for the people in your life, and celebrating your friendship. Throughout the years, Friendsgivings have become essential for every crew. Maybe your squad is hosting yours before people head home for the holiday, or you're getting together Thanksgiving weekend. Either way, Ketel One Botanical Friendsgiving essentials kit is here to help you celebrate.
The essentials kit was made to be the perfect plus one to bring along to your cozy celebration (if you're 21 or over). It was inspired by Ketel One Botanical's debut of National Girls' Night In on Sept. 22. (Friendsgiving and girls' night in? Yes, please!)
Just imagine having all of your best girlfriends over and not having to worry about someone running to the liquor store on the way. You also don't have to stress about how you're going to serve up your appetizers. All items in this limited edition kit will help you become the greatest host of all time, and the best part is, it's conveniently delivered right to your front door.
Dish out the fun this Friendsgiving with a marble cheese board and trendy coasters.
Each kit comes with a marble cheese board that'll be perfect for serving tasty snacks before the big meal. Instead of a plate you have at home, you can make your own charcuterie platter on marble. (Now that sounds fancy AF!)
The set of hammered brass coasters will come in handy when serving those specialty Friendsgiving cocktails with Ketel One Botanical. I recommend coming up with a punny name for your drinks like, "The Holiday Spirit."
Ketel One has also teamed up with The Bouqs Co. to give you a 20 percent discount on any blooms you order for the perfect table centerpiece. They are offering really cute festive fall arrangements such as one called the "Pumpkin Patch." You can keep your flowers looking great with the vase that's also in the kit.
You can pick your own vodka flavor as well.
Of course, it wouldn't be a Ketel One essential kit without the vodka. When ordering your kit, you can choose between the three new flavors: "Peach & Orange Blossom," "Cucumber & Mint," or "Grapefruit & Rose." My personal fave is the "Cucumber & Mint" which tastes just like cucumbers, and it's extra refreshing. All three are great flavors that will be the perfect choice to mix into your Friendsgiving cocktail.
Where can you find the Friendsgiving kit?
You can't find this kit just anywhere. It's only available on Giftagram, which can be purchased online, or easily from your phone through the Giftagram mobile app. They truly have made it so effortless for you to have the best Friendsgiving ever. So, treat yourself to a kit of your own, or send one to your best friend. Whatever you decide, I hope you have the best Friendsgiving a girl could ask for.