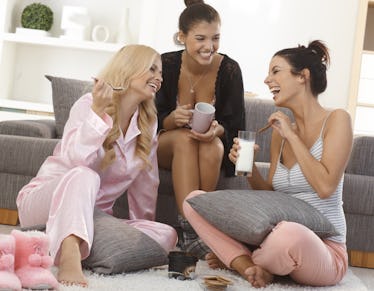 The First-Ever National Girls' Night In Is Bringing Women Together For The Best Reason
Let's be honest: Your squad means the world to you. You're constantly texting in the group chat planning your Friday night hangs, and laughing at countless inside jokes. You couldn't imagine making epic memories without your best girlfriends by your side. But out of all the activities you plan, there's really nothing better than a chill girls' night in. Sure, hitting up that trendy karaoke bar down the block is always a fun time, but getting cozy on the couch with your girls is what you live for after a long week. That's why the first-ever National Girls' Night In is bringing women together for the best reason.
A girls' night in is all about unwinding and catching up with your favorite people. It might include some sweet baked goods, your favorite rom-coms, and tasty cocktails (if you're 21 or over). Channeling your inner Spice Girl, these nights shine a spotlight on girl power and friendship.
You don't always need to be out on the town with your besties in order to have a fun time. In fact, some of the best nights are when you're not doing anything at all. I'd personally opt for a girls' night in every night. If you're in the same boat as me, on Saturday, Sept. 22, you have a perfect excuse to host an awesome get-together, while wearing your favorite sweatshirt and fluffiest slippers.
Mark your calendar for the first-ever National Girls' Night In.
National Girls' Night In, founded by Ketel One Botanical, will make its debut this weekend. Leading the celebration is Alisha Ramos, founder of Girls's Night In Club, a community of women who are passionate about wellness and forming solid friendships. The first day of fall is now marked on the National Day Calendar as a time to celebrate the importance of women connecting with other women, and unwinding. Now those are two things I can get behind!
Ditch the FOMO, because it's not invited to this party. It's understandable that when you've had an exhausting week at work, all you want to do is curl up in your coziest blanket. When the group chat starts lighting up your phone, you may feel pressured to go out — but that's when a girls' night in saves the day.
This Saturday, gather your crew to celebrate by kicking back and enjoying an evening of pure relaxation (and maybe some pizza, too).
Just like every squad is different, there are a ton of different ways to celebrate your girls' night in. Ketel One Botanical and Girls' Night In Club are helping squads plan the perfect evening with tips on activities like a treat yourself spa night, cooking a delicious meal for your crew, and getting into the fall spirit by reading tarot cards.
If you're looking for the most relaxing way to spend the occasion, go with a DIY spa night, complete with cucumber face masks and stylish nail art. If your crew loves to watch movies, get a mini film festival streaming in the comforts of your living room. Make a pillow fort to sit in as you watch your favorite rom-coms or Halloween classics that are fit for the season. Just don't forget the popcorn!
For the squad that loves to sip and gab, whip up some refreshing cocktails. Kicking off on Sept. 22 and lasting through the end of the year, you can get $5 off your purchase of Ketel One Botanical by entering the promo code GIRLSNIGHTIN on Drizly. Use their refreshing flavors of vodka — Peach & Orange Blossom, Cucumber & Mint, or Grapefruit & Rose — to come up with a drink in honor of your crew. Don't forget to name it, and be sure to snap a sippin' squad selfie. When you're ready to post to the 'Gram, use the hashtags #KetelBotanical, #BotanicalBesties, and #GirlsNightIn.