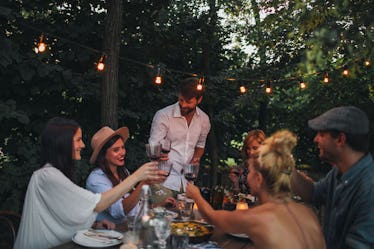 The Top Essentials You Need To Host The Best Friendsgiving Ever Have Been Revealed
If you're celebrating Friendsgiving this year, it might be difficult to figure out where to start. The food is really just the beginning. You also have to think about decor and ambiance, and you have to put on the most welcoming hostess face, even if you're stressing out. To help you out a little bit, the top Friendsgiving essentials, according to Etsy, are officially here.
Etsy knows that Thanksgiving — and therefore Friendsgiving — is quickly approaching, so it rounded up the essentials you need to have an unforgettable Friendsgiving. It has got you covered with the trendiest pieces, from place settings, to serving dishes, to invitations, decor, and beyond. The best part about Etsy is that all of its sellers make really unique items, so you know your guests are getting an experience that's completely specific to your special Friendsgiving.
Spending this monumental holiday with your chosen family is such a blessing, and these tips and tricks will help you out to pull everything off without a hitch. So take a deep breath, stick your turkey in the oven, and have the best Friendsgiving ever.
Make sure your friends get their hands on the hottest invite this holiday season.
First impressions are everything, so you'll want to make sure that your Friendsgiving invites seriously stand out. Check out these Etsy-approved options to ensure that no one RSVPs "no" to your shindig.
Your guests will feel right at home with your trendy place settings and homey decor.
From unique place cards to fun decoration ideas, Etsy has everything you need to make your guests feel welcome in your home. (Even if it's a New York City apartment the size of a shoebox.) While you can DIY a ton of these items, the sellers at Etsy have beautiful handmade designs that you can use year after year.
If you're attending a Friendsgiving, you shouldn't show up empty-handed.
Guests of a Friendsgiving should always show up with a gift for the guest. After all, they are letting you into their house, and the clean-up afterward is sure to take a while. A decent bottle of wine or thoughtful gift will go a long way.
Dress up your pie with stunningly chic serving dishes.
Every good host knows that your food is only as good as the dish it's served on, and you definitely want to leave an amazing impression on your guests. Check out these beautiful options to present your food like you're a pro chef.
Leave a lasting impression on your guests with cute goodie bags.
Saying farewell to your guests is never fun, especially when you all had a great time over some delicious food and drink. But you can make sure that they'll always want to come back if you leave them with a little parting gift. These handmade souvenirs are a great way to let your guests know that you're thankful they chose to celebrate with you.