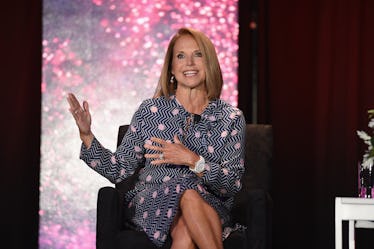 Katie Couric's Net Worth Will Make You Wish You Were Opening The Winter Olympics, Too
Larry Busacca/Getty Images Entertainment/Getty Images
Some people in showbiz seem like they've been a part of our lives forever. If we could gauge it, I wonder how many minutes an every-day American human has spent looking at Katie Couric's face in their lifetime. Is it a total of 100 hours? 100 days? Our homegirl has been on television for a long-ass time, and now, she's hosting the 2018 Winter Olympic Opening Ceremony in Pyeongchang, South Korea. It's got me wondering — how much does she make? Obviously, I did some research, and you guys, Katie Couric's net worth is no freaking joke. (But, you knew that already.)
I'm going to throw some numbers at you: 6 million, 10 million, 15 million. These are some of Couric's previous yearly income salaries. Famously, when Couric first signed on as the global news anchor for Yahoo, she was initially contracted 6 million dollars a year. Four years later, they bumped that number to 10 million. According to Business Insider, that was nothing compared to the 15 million she made as an anchor at CBS.
International Business Times reports that in 2011, ABC gave Couric a 40 million dollar contract to host her daytime talk show, Katie. It was canceled five years later, but not before she pocketed some serious coins.
Now, Celebrity Net Worth ballparks her net worth right around 75 million dollars.
Just sit with that for a moment.
They attribute that number to the work she's done throughout her nearly 40-year long career. Sometimes, when I think about rich people or really big amounts of money, I like to think of all the things I could buy with it.
For example, with Couric's 75 million dollars, she could purchase:
- 3,000,000 pairs of Old Navy Jeans
- Up to 50,000 designer puppies
- About 1,190 years of annual tuition at Harvard University
- And, like, 81,967 flights to Pyeongchang, South Korea, to host the Olympic Opening Ceremony
We get it, Katie. You're really, really rich.
This will be Couric's third time hosting the Olympic Opening Ceremonies, but the first time she's doing it with co-host Mike Tirico. She announced the good news via Instagram by sharing a picture of herself and Tirico, writing,
Very excited to host the #winterolympics#openingceremony with @miketirico!! #PyeongChang2018@nbcolympics@nbcsports#brrrrrr
In the past, Opening Ceremonies have been hosted by Couric's longtime friend and colleague, Matt Lauer.
Lauer was recently fired from his position at Today after accusations of sexual harassment surfaced agaiznst him at the end of 2017. NBC announced the news on Twitter with the following message:
Lauer responded to the accusations in a statement to CNN on Nov. 30. It said,
There are no words to express my sorrow and regret for the pain I have caused others by words and actions. To the people I have hurt, I am truly sorry. As I am writing this I realize the depth of the damage and disappointment I have left behind at home and at NBC. Some of what is being said about me is untrue or mischaracterized, but there is enough truth in these stories to make me feel embarrassed and ashamed. I regret that my shame is now shared by the people I cherish dearly. Repairing the damage will take a lot of time and soul searching and I'm committed to beginning that effort. It is now my full time job. The last two days have forced me to take a very hard look at my own troubling flaws. It's been humbling. I am blessed to be surrounded by the people I love. I thank them for their patience and grace.
Eventually, Couric commented on his firing to People. She told the magazine,
The whole thing has been very painful for me. The accounts I've read and heard have been disturbing, distressing and disorienting and it's completely unacceptable that any woman at the Today show experienced this kind of treatment.
I had no idea this was going on during my tenure or after I left. I think I speak for many of my former colleagues when I say this was not the Matt we knew. Matt was a kind and generous colleague who treated me with respect. In fact, a joke I once made on late-night television was just that, because it was completely contrary to our brother-sister relationship. It's still very upsetting. I really admire the way Savannah [Guthrie] and Hoda [Kotb] and the entire Today show staff have handled a very difficult situation.
Despite her obvious heartache over the situation, Couric and her own career are still thriving. You can catch her at the Opening Ceremony on Friday, Feb. 9, at 8 p.m. EST on NBC.
Check out the entire Gen Why series and other videos on Facebook and the Bustle app across Apple TV, Roku, and Amazon Fire TV.