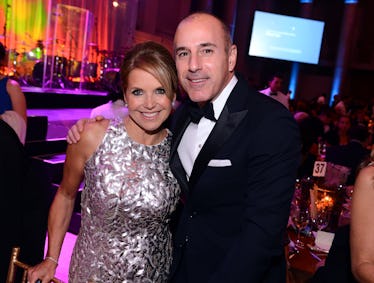 Katie Couric Responds To Matt Lauer Allegations & Firing, Calls The Situation "Painful"
Stephen Lovekin/Getty Images Entertainment/Getty Images
Following Matt Lauer's firing from the TODAY Show in November and Hoda Kotb stepping in as his official replacement on the show, Katie Couric has put in her two cents about the issue. Katie Couric's response to Matt Lauer's firing from the TODAY Show shows she's been struggling to come to terms with the reality of her longtime co-anchor. She and Lauer co-hosted the TODAY Show from 1997 to 2006 when Couric left the show to anchor the CBS Evening News. In an interview with People released Jan. 13, Couric said learning of Lauer's alleged misconduct has been "very painful," adding it has been "disturbing, distressing, and disorienting."
In November 2017, Lauer was fired by NBC due to a "detailed complaint" about alleged "inappropriate sexual behavior" from Lauer over the span of his time at the network. Following his firing, Savannah Guthrie read NBC's official statement live on the TODAY Show. The statement said, "It [the complaint] represented, after serious review, a clear violation of our company's standards. As a result, we've decided to terminate his employment." Lauer responded to the allegations and his firing on Nov. 30 in a statement that read,
There are no words to express my sorrow and regret for the pain I have caused others by words and actions. To the people I have hurt, I am truly sorry. As I am writing this I realize the depth of the damage and disappointment I have left behind at home and at NBC. Some of what is being said about me is untrue or mischaracterized, but there is enough truth in these stories to make me feel embarrassed and ashamed. I regret that my shame is now shared by the people I cherish dearly. Repairing the damage will take a lot of time and soul searching and I'm committed to beginning that effort. It is now my full time job. The last two days have forced me to take a very hard look at my own troubling flaws. It's been humbling. I am blessed to be surrounded by the people I love. I thank them for their patience and grace.
Katie Couric told People, "The whole thing has been very painful for me. The accounts I've read and heard have been disturbing, distressing and disorienting and it's completely unacceptable that any woman at the Today show experienced this kind of treatment." Couric continued,
I had no idea this was going on during my tenure or after I left. I think I speak for many of my former colleagues when I say this was not the Matt we knew. Matt was a kind and generous colleague who treated me with respect. In fact, a joke I once made on late-night television was just that, because it was completely contrary to our brother-sister relationship. It's still very upsetting. I really admire the way Savannah [Guthrie] and Hoda [Kotb] and the entire Today show staff have handled a very difficult situation.
The joke Couric is referring to was made on Watch What Happens Live with Andy Cohen in 2012.
In the video, Couric says Lauer "pinches" her "on the ass a lot." In light of his alleged misconduct, the video was very disturbing for viewers once it resurfaced. As said in her statement to People, however, Couric says the comment was intended as a joke, explaining she never knew of Lauer's alleged inappropriate behavior and never experienced it herself.
Couric told Entertainment Tonight on Jan. 13 that the entire Lauer ordeal has been "crushing." "It's been really crushing," she said. She continued,
I think there's been a lot of cognitive dissonance for me and a lot of people on the show, and clearly the behavior was unacceptable and shocking for so many of us, and yet we also all knew a side of Matt and many positive attributes. So to try to kind of make sense of it has been … almost impossible and very challenging.
According to Us Weekly, Couric did not reveal whether or not she has been in contact with Lauer in any capacity since he was fired, but she has reportedly sent her love to Guthrie and Kotb wishing them the best as the first all-female team to host the TODAY Show.
She told ET, "I think Savannah and Hoda and the whole Today show staff took a very upsetting and incredibly troubling situation and were able to handle it with a lot of dignity and grace, and I really applaud them all." She added, "It's been a very trying situation in all corners of the world, and all kinds of industries, and you know, people have to move forward." Kotb is still co-hosting her show, Kathie Lee & Hoda, with co-host Kathie Lee Gifford.