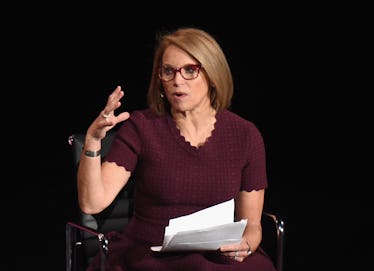 This Video Of Katie Couric Talking About Working With Matt Lauer Is Just, Ugh
Michael Loccisano/Getty Images Entertainment/Getty Images
When news broke on Nov. 29, that NBC news anchor Matt Lauer had been fired for "inappropriate sexual behavior in the workplace," some people were shocked. But for many, the revelations weren't surprising at all. There were, according to many, signs, hints dropped, and whispers about Lauer for years. Those hints include a recently resurfaced 2012 video of Lauer's former coworker Katie Couric saying Lauer "pinches" her "on the ass a lot."
According to the New York Post's Page Six, in 2012, Couric appeared on Bravo's Watch What Happens Live with Andy Cohen. During a segment called "Plead The Fifth," in which Cohen magically gets celebrities to divulge secrets and gossip, Cohen asked Couric about her former Today show co-host. "What is [Lauer's] most annoying habit?" he asked.
Couric shrugged and said, "He pinches me on the ass a lot." In the longer version of the video posted on Page Six, after she copped to Lauer's ass pinching, Cohen cracked a joke — "Wow, I wouldn't say no to that!" — and Couric started laughing. (And earlier in the segment, during a shag, marry, kill game, she said she'd marry Lauer.)
It's clearly meant to be a light-hearted oh-you-rascal, but in light of the myriad women who have alleged sexual harassment, the five-year-old clip is disturbing.
Elite Daily reached out to representatives of both Lauer and Couric for comment, but did not hear back by the time of publication.
Lauer's alleged ass-pinching is not the only instance of inappropriate behavior Lauer is said to have targeted at his coworkers.
On Nov. 29, NBC announced they were firing Lauer after a detailed complaint alleging "inappropriate sexual behavior" was filed two days prior. The network also said they had reason to believe it wasn't an isolated incident. The timing coincided with an exclusive report Variety was working on about Lauer's behavior, which was also published on Nov. 29. A reporter for Variety said via Twitter NBC was aware of the Lauer story, which they had been working on for weeks.
The story alleged that Lauer had a habit of sexting interns and staff (including sending unsolicited "revealing pictures"), summoning women to his office for sex (and reprimanding one when she didn't comply), and even installing a button under his desk that allowed him to lock his office door. He also allegedly gave sex toys as presents, per Variety, and asked female staff who they had slept with. Elite Daily reached out to Lauer's representative regarding the allegations, but did not immediately receive a response.
NBC said in a statement to Variety that the complaint filed on Nov. 27 was the first they had heard of Lauer's alleged misconduct. However, according to Variety, "Several women [said] they complained to executives at the network about Lauer's behavior, which fell on deaf ears given the lucrative advertising surrounding Today."
In light of these revelations, other public interactions Lauer had with women have come under intense scrutiny. One of those is an interview Lauer did with Anne Hathaway in 2012, in which he asked her about an upskirt shot someone took when she was getting out of a car — a move many found tasteless at best. Lauer addressed the upskirt shot before the movie she was promoting, saying, "let's just get it out of the way, you had a little wardrobe malfunction the other night. What's the lesson learned from something like that, other than that you keep smiling, which you always do?" (Hathaway deflected the question back to Les Miserables, the film she was promoting at the time.)
For what it's worth, Couric posted a vague message about karma and "how you treat people" to Instagram and Twitter on Nov. 22. The tweet, which included an image reading "karma's just sharpening her nails and finishing her drink. She says she'll be be with you shortly," was tagged with the hashtag, #sexismisnotagoodlook.
So, you know, take from that what you will. What goes around comes around.