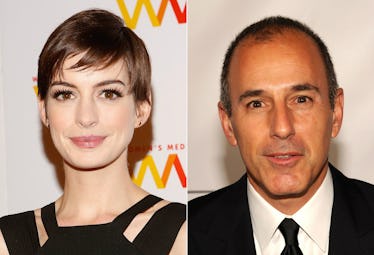 This Anne Hathaway Interview With Matt Lauer From 2012 Will Make Your Skin Crawl
Cindy Ord/Larry Busacca/Getty
On Wednesday, Nov. 29, NBC News announced that 59-year-old anchor Matt Lauer was fired over alleged "inappropriate sexual behavior in the workplace" after the company received a complaint from a colleague, NBC News' president, Andrew Lack, said in a statement. Elite Daily reached out to Lauer for comment but did not hear back at time of publication. With this news, people have been reexamining aspects of Lauer's work at NBC. One particular clip that has resurfaced in the wake of the allegations against Lauer is a 2012 interview Lauer did with Anne Hathaway, which took place as the actress was doing press for Les Miserables.
Before Hathaway's interview with Lauer, the actress was photographed getting out of a car in a way that showed she wasn't wearing underwear. (It should be noted that the question of the legality of "upskirt" pictures is a regularly debated topic that comes up in courts.) The pictures were then sold and distributed. Real classy, America.
So, for whatever reason, Lauer felt it absolutely necessary to open his interview with Hathaway with questions about the photos.
"Seen a lot of you lately," he quipped at the start of their Today show interview. Hathaway first apologized, noting that she'd rather be staying home, but she has a movie to promote. Lauer continued pressing, "Let's just get it out of the way, you had a little wardrobe malfunction the other night. What's the lesson learned from something like that, other than that you keep smiling, which you always do?"
At the time, people took issue with Lauer's questioning of Hathaway for a handful of reasons. First of all, the "seen a lot of you lately" quip made a creepy joke out of a gross violation of Hathaway's body. Even the New York Post deemed it "tasteless." Second of all, there's the question of why Lauer had to bring it up in the first place — and why start with that topic, of all things.
Finally, there's the patriarchal victim-blaming Lauer placed on Hathaway — "What's the lesson learned" — as if it were her own fault that a photographer, again, grossly violated her body and then sold that violation for profit.
But Hathaway is a pro, and she quickly pivoted the conversation, turning it on society and Lauer's questioning itself. Hathaway said,
It was obviously an unfortunate incident. It kind of made me sad on two accounts. One was that I was very sad that we live in an age when someone takes a picture of another person in a vulnerable moment, and rather than delete it, and do the decent thing, sells it. And I'm sorry that we live in a culture that commodifies the sexuality of unwilling participants. Which brings us back to Les Mis…
Boom, pivoted.
Beyond the resurfaced Hathaway interview, Lauer's firing has led to questioning of his overall treatment of women in interviews at his job. Pertinent discussions include a reexamination of the ousting of Lauer's co-anchor Ann Curry in 2012 and well as Lauer's actions during the 2016 presidential election. According to a 2013 New York Times article by Brian Stelter, "Curry felt that the boys' club atmosphere behind the scenes at Today undermined her from the start, and she told friends that her final months were a form of professional torture."
And then there was the presidential election.
In September 2016, Lauer hosted a forum on national security with Hillary Clinton and Donald Trump. He was widely panned for playing soft with Trump while spending his time asking Clinton about the played-out topic of her emails, rather than anything of actual substance. Lauer's performance was deemed sexist by many at the time, considering his harsh continued interruptions of Clinton and his inability to call Trump out on blatant lies.
As Lauer is just the latest in a string of high-profile men who shaped the narrative on politics being fired or suspended for allegations of sexual misconduct, it's worth wondering how their coverage cleared the path for a man caught on tape bragging about what amounts to sexual assault. Who tells the story and who asks the questions in media matters, because it determines what the public digests.
With the Hathaway interview, viewers get a pretty clear idea of how narratives about women were written by Lauer (and others like him) for 20 years as an anchor of the Today show.