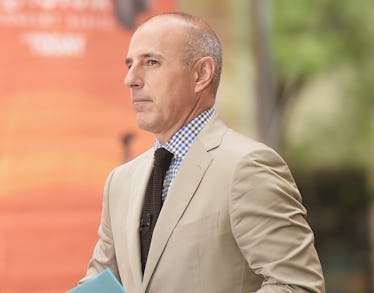 NBC's Matt Lauer Becomes Latest Media Star Fired For Alleged Sexual Misconduct
Michael Loccisano/Getty Images Entertainment/Getty Images
Matt Lauer, the 59-year-old anchor whose career at NBC spanned three decades, was terminated by the network over a complaint of alleged "inappropriate sexual behavior in the workplace," according to a statement made by the network. During the Wednesday, Nov. 29, airing of the Today Show, co-host Savannah Guthrie read the statement — written by NBC News' president, Andrew Lack — explaining why Matt Lauer was fired. The statement read,
On Monday night, we received a detailed complaint from a colleague about inappropriate sexual behavior in the workplace by Matt Lauer. It represented, after serious review, a clear violation of our company's standards. As a result, we've decided to terminate his employment.
Elite Daily reached out to Lauer's team for comment on the alleged incident but did not hear back at time of publication. The statement from Lack went on to detail that the complaint the company received on Monday night had been the first accusing Matt Lauer of misconduct. Still, the company had reason to believe that there were similar accusations about Lauer yet to be reported.
"While it is the first complaint about his behavior in the over 20 years he has been at NBC News, we were also presented with reason to believe this may not have been an isolated incident," NBC News' statement read. "Our highest priority is to create a workplace environment where everyone feels safe and protected, and to ensure that any actions the run counter to our core values are met with consequences, no matter who the offender."
A video of Guthrie reading the statement can be seen in the clip below.
NBC's decision comes amidst a wave of sexual harassment claims made against high-profile figures in entertainment, news media, and politics. In some cases, those claims have been followed by the firing of the accused party.
After NBC announced that it had terminated Lauer's contract, multiple journalists who'd covered many of the notable harassment claims over the past two months — including those made against movie executive Harvey Weinstein and news veteran Charlie Rose — offered more information about the allegations surrounding Lauer.
Yashar Ali, who'd broken a story about claims against former Fox News anchor Eric Boiling, said on Twitter, "I, and other reporters , have been aware of several women who have come forward privately in the past few months ...even before Weinstein. They weren't willing to go public though...they were terrified of Matt." (Elite Daily reached out to Lauer for comment on the allegations that multiple women had come forward privately but were "terrified" of Lauer, but did not hear back at the time of publication.)
During an appearance on CNN morning show New Day, Brian Stelter echoed Ali's claim. Stelter told viewers that multiple reporters, including one of The New York Times journalists who broke the Weinstein story, had been working on a separate report detailing multiple allegations against Lauer.
The "Reckoning" Of Alleged Harassers
Lauer's termination adds to the ever-increasing count of famous figures who have been the subject of harassment claims across different industries.
In politics, the campaign of Alabama Senate candidate Roy Moore has been rocked by claims from multiple women who say the Republican nominee preyed upon them when they were teenagers. Moore has largely denied accusations of wrongdoing, calling accusations "political attacks." In Hollywood, accusations of sexual assaults have been made against Weinstein and producer Brett Ratner, among others. Weinstein has denied allegations of sexual assault, and Ratner has denied and disputed allegations against him.
In news media, CBS News' Charlie Rose and MSNBC's Mark Halperin were both fired after multiple claims of harassment were made against them. (Following the claims made against them, Rose said in a statement he "deeply" apologizes for his "inappropriate behavior," and Halperin apologized in a statement, saying he "understand[s] from these accounts that my behavior was inappropriate and caused others pain.") The New York Times reporter Glenn Thrush was suspended following accusations of inappropriate sexual behavior. Thrush also apologized in a statement "to any woman who felt uncomfortable in my presence, and for any situation where I behaved inappropriately."
Then came Matt Lauer. On Wednesday morning, Nov. 29, his (now former) co-host deemed his fate part of a "reckoning" for media organizations.
"How do you reconcile your love for someone with the revelation that they have behaved badly?" an emotional Guthrie asked on air. "I do know that this reckoning that so many organizations have been going through is important, and long overdue, and it must result in workplaces where all women — all people — feel respected."
Lauer earned a salary of $20 million per year at NBC, according to the reported details of his latest contract with the network.