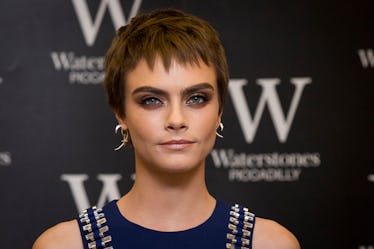 Cara Delevingne Accuses Harvey Weinstein Of Sexual Harassment In Emotional Post
Tristan Fewings/Getty Images Entertainment/Getty Images
Add Cara Delevingne to the list of women who have accused Harvey Weinstein of sexual harassment. The model and actress made claims about disturbing experiences with the producer in an Instagram post on Wednesday. The picture accompanying Cara Delevingne's Instagram post about Harvey Weinstein says: "Don't be ashamed of your story. It will inspire others."
Delevingne claimed in the post: "When I first started to work as an actress, I was working on a film and I received a call from‎ Harvey Weinstein asking if I had slept with any of the women I was seen out with in the media. It was a very odd and uncomfortable call... I answered none of his questions and hurried off the phone but before I hung up, he said to me that If I was gay or decided to be with a woman especially in public that I'd never get the role of a straight woman or make it as an actress in Hollywood."
The actress, who has made two movies for the Weinstein Company, Paper Towns and Tulip Fever, continued with more disturbing claims, writing:
A year or two later, I went to a meeting with him in the lobby of a hotel with a director about an upcoming film. The director left the meeting and Harvey asked me to stay and chat with him. As soon as we were alone he began to brag about all the actresses he had slept with and how he had made their careers and spoke about other inappropriate things of a sexual nature. He then invited me to his room. I quickly declined and asked his assistant if my car was outside. She said it wasn't and wouldn't be for a bit and I should go to his room.
Delevingne continued, noting her uneasiness with the situation:
At that moment I felt very powerless and scared but didn't want to act that way hoping that I was wrong about the situation. When I arrived I was relieved to find another woman in his room and thought immediately I was safe. He asked us to kiss and she began some sort of advances upon his direction. I swiftly got up and asked him if he knew that I could sing. And I began to sing... I thought it would make the situation better... more professional... like an audition... I was so nervous. After singing I said again that I had to leave. He walked me to the door and stood in front of it and tried to kiss me on the lips.
Delevingne further explained: "I stopped him and managed to get out of the room. I still got the part for the film and always thought that he gave it to me because of what happened. Since then I felt awful that I did the movie. I felt like I didn't deserve the part. I was so hesitant about speaking out... I didn't want to hurt his family. I felt guilty as if I did something wrong. I was also terrified that this sort of thing had happened to so many women I know but no one had said anything because of fear."
The actress and model touches on so many feelings in the emotional post, including guilt and fear, as well as the worry of hurting his family. Delevingne is the latest to share the alleged encounters she's had with Weinstein. Among the many others who have voiced their stories about their alleged experiences with Weinstein are Ashley Judd, Asia Argento, Mira Sorvino, Lauren Sivan, Gwyneth Paltrow, and Angelina Jolie.
In response to the Oct. 5 New York Times article and allegations, Weinstein said in a statement:
I appreciate the way I've behaved with colleagues in the past has caused a lot of pain, and I sincerely apologize for it. Though I'm trying to do better, I know I have a long way to go.
Additionally, Weinstein's spokeswoman, Sallie Hofmeister, provided the following statement to Elite Daily in response to previous accusations:
Any allegations of non-consensual sex are unequivocally denied by Mr. Weinstein. Mr. Weinstein has further confirmed that there were never any acts of retaliation against any women for refusing his advances. Mr. Weinstein obviously can't speak to anonymous allegations, but with respect to any women who have made allegations on the record, Mr. Weinstein believes that all of these relationships were consensual. Mr. Weinstein has begun counseling, has listened to the community and is pursuing a better path. Mr. Weinstein is hoping that, if he makes enough progress, he will be given a second chance.
Delevingne added a second Instagram post on the matter:
She wrote:
I want women and girls to know that being harassed or abused or raped is NEVER their fault and not talking about it will always cause more damage than speaking the truth. I am relieved to be able to share this... I actually feel better and I'm proud of the women who are brave enough to speak... this isn't easy but there are strength in our numbers. As I said, this is only the beginning. In every industry and especially in Hollywood, men abuse their power using fear and get away with it. This must stop. The more we talk about it, the less power we give them. I urge you all to talk and to the people who defend these men, you are part of the problem.
Check out the entire Gen Why series and other videos on Facebook and the Bustle app across Apple TV, Roku, and Amazon FireTV.