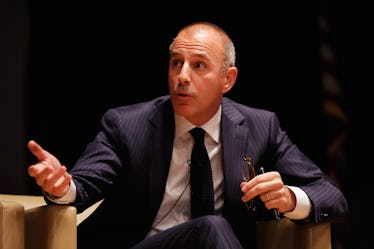 Matt Lauer Finally Responded To Sexual Assault Allegations & Here's What He Had To Say
Jemal Countess/Getty Images Entertainment/Getty Images
On Thursday morning, Nov. 30, former Today host Matt Lauer responded to the sexual misconduct allegations that led to NBC fire him earlier in the week. In his response, the 59-year-old broadcaster said he was "embarrassed and ashamed," but also indicated he believes some of the claims made against him are "untrue." The response comes the morning after the network announced it had terminated Lauer's employment.
"There are no words to express my sorrow and regret for the pain I have caused others by words and actions," he wrote in a statement provided to CNN. "To the people I have hurt, I am truly sorry. As I am writing this I realize the depth of the damage and disappointment I have left behind at home and at NBC."
For over 20 years, Lauer served as the co-anchor of Today, a show which for much of his tenure was rated the no. 1 morning program on television. On Tuesday night, Nov. 28, NBC decided to end those two decades of engagement after it'd received a "detailed complaint" about Lauer's alleged "inappropriate sexual behavior" in the workplace, NBC News president Andrew Lack said in a statement.
On Wednesday morning, Lack's statement was read on air by Today co-host Savannah Guthrie. "It [the complaint] represented, after serious review, a clear violation of our company's standards. As a result, we've decided to terminate his employment," the statement read.
Lack's statement also said that, despite the fact the reported instance represented the first formal claim made against Lauer, the network had reason to believe that there were other instances of alleged sexual misconduct. That "reason" became clear later on Wednesday, when both The New York Times and Variety magazine — the latter of which specifically covers the entertainment industry — released reports detailing accusations from women who've worked with Lauer at NBC. The new reports mean Lauer's response is as much a reaction to the reports as it is to NBC's decision.
"Some of what is being said about me is untrue or mischaracterized, but there is enough truth in these stories to make me feel embarrassed and ashamed," the veteran anchor wrote. "I regret that my shame is now shared by the people I cherish dearly."
Variety's report was the first of the two bombshell media accounts about Lauer that was published on Wednesday, Nov. 29. In it, there was a claim that Lauer had the ability to lock the door behind guests using a button from his desk. Elite Daily reached out to Lauer's team for comment on the button, but did not hear back at time of publication.
"There were a lot of consensual relationships, but that's still a problem because of the power he held," Variety quoted an unnamed, former NBC producer as saying. "He couldn't sleep around town with celebrities or on the road with random people, because he's Matt Lauer and he's married. So he'd have to do it within his stable, where he exerted power, and he knew people wouldn't ever complain."
The New York Times detailed an even more graphic account, dating back over 15 years. The paper's report featured a claim in which Lauer asked a woman to his office in 2001, locked the door using a button on his desk and asked her to unbutton he blouse — to which she obliged. According to the account, Lauer then sexually assaulted her, during which passed out. She woke up later on the floor of his office and had to be taken to a nurse, the report says. Elite Daily reached out for comment about this allegation, but did not hear back at time of publication.
"Repairing the damage will take a lot of time and soul searching and I'm committed to beginning that effort," Lauer wrote in his apology. "It is now my full time job. The last two days have forced me to take a very hard look at my own troubling flaws. It's been humbling. I am blessed to be surrounded by the people I love. I thank them for their patience and grace."
Lauer's most recent contract with NBC paid him over $20 million and was set to expire at the end of 2018, per multiple reports.