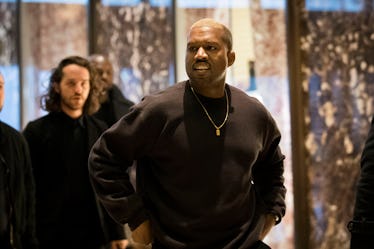 Fans Are So Confused By Kanye West's Latest Instagram Post On 'Yandhi' Release Day
Drew Angerer/Getty Images News/Getty Images
If you've been following social media at all, then you know that Sunday, Sept. 30 has largely been all about Kanye West. Not only did West perform on the Saturday Night Live premiere on Sept. 29, but he also previously said that he would drop his ninth studio album, Yandhi, immediately after that. Well, Saturday night (and early Sunday morning) came and went, and there was no new Kanye album to be found. Instead, Kanye West posted this Saint Hoax meme on Yandhi release day, and the comments section is filled with plenty of confused fans.
If you're not familiar, Saint Hoax is a social media account that posts mash-up images of the most popular pop culture figures. Following West's SNL performance of "I Love It" with Lil Pump, in which they both dressed up in oversized water bottle costumes (I'm not kidding), Saint Hoax posted the famous image of Kim Kardashian West posing for Paper in November 2014. (You know, the bare-butt photo that "broke the internet.") Instead of popping a bottle of champagne as in the original photo, the meme version of it posted on Sunday, Sept. 30, 2018, has Kardashian "holding" an image of West in his Perrier-looking water bottle.
West shared the post on Twitter and Instagram on Sunday morning with three laughing-crying emojis.
At first glance, you might think the "SAINTHOAX" watermark at the bottom of the image is an indicator that Kanye fans got duped by the rapper, but it first and foremost is there because it was created by the Saint Hoax account. Of course, it could have a double meaning to include a big "Gotcha!" for fans waiting on the Yandhi album. Elite Daily reached out to Kanye West's representation for clarification of what the meme means but did not hear back at the time of publication.
Naturally, fans waiting for the yet-to-be-heard Yandhi album were straight-up confused. One commenter on Instagram wrote, "WHERES THE ALBUM? WE WANT THE DAMN ALBUM."
Seriously, people want this album.
Some people thought this was Kanye's way of telling his fans, "LOL. Joke's on you."
TBH, with Kim's smile and the meme of Kanye as a bottle of champagne, I'd be inclined to believe that this is a big joke as well.
Searching for the positive in a Yandhi-less day, one Twitter user pointed out that this could be great for a Halloween 2018 costume.
And even as much as people can appreciate a smugly smiling Kim popping a "bottle" of Kanye as champagne, they really, really, want that dang album.
To hold Kanye fans over until the Yandhi release date — which is now seemingly still to be determined — they can check out YE, as he's now known, from Saturday night's SNL. If you want to keep it chill and mainly controversy-free, stream his three performances from the night, including "I Love It" with Lil Pump. Or, you can see the cut-for-time address to the crowed from West following the end credits, if you're more in the mood for a pro-Trump rant.
Honestly, there is a lot of YE content available for his fans on Sunday, Sept. 30, but if you were hoping for a Yandhi listening session, you'll have to keep waiting.