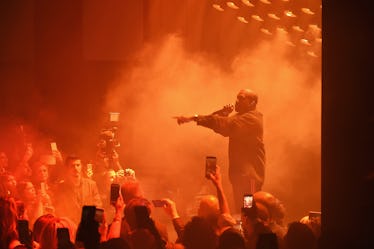 20 Of Kanye's "Ghost Town" Lyrics For Captions, Because This Track Is An Experience
Jamie McCarthy/Getty Images Entertainment/Getty Images
When it comes to Kanye West's music, I never quite know what to expect. From his rants on Twitter, to fashion lines being shown in Madison Square Garden, and every track that's dropped in between, you don't need to be consistently streaming his music to hear the rapper's voice. Ye dropped on Friday, June 1, after a secret listening party which took place in Wyoming the night before. It features seven new songs that cover all sorts of topics. But, these Kanye "Ghost Town" lyrics for captions truly show that this track off the LP, in particular, is an experience — and fans everywhere were seriously hyped about it.
I've found that the key to listening to and appreciating rap music is to try and decode the lyrics. Every line has a message and a meaning, and until you discover it, you're missing out on entire layers of the song. Sure, not every single jam comes with emotions and deep perspectives worth exploring. Kanye West doesn't disappoint on this album, though (leaving tracks like "Violent Crimes" on the table, which could quite possibly be Kanye talking about his daughters Chicago and North West, amongst some other things).
According to The Fader, "Ghost Town" features John Legend, Kid Cudi, and 070 Shake. The lyrics can be interpreted as rather intense at times, but those words are paired with a sweet and soulful melody, though (bringing life to a song that confronts that feeling of numbness, and offering a lot of hope).
You may not think of using lyrics from "Ghost Town" for an Instagram caption, but before you sign off and start looking to other tried and true lyrics instead, find a few words that totally match your mood. If you're 20-something, you've likely had a moment where you were "caught between space and time." You and your bestie may even be talking at the party like you "drank all the wine." Believe it or not, the social media opportunities in this song are endless, so check out some of these lyrics for your next Insta caption.
1. "Now I'm livin' high, doin' what I wanna someday."
2. "I've been tryin' to make you love me. But everything I try, just takes you further from me."
3. "You might think they wrote you off. They gon' have to rope me off."
4. "No half-truths, just naked minds."
5. "We're still the kids we used to be."
6. "Some day I'll, I will wear a starry crown."
7. "Baby, don't you bet it all."
8. "Sometimes I take all the shine, talk like I drank all the wine."
9. "Years ahead but way behind."
10. "I feel kinda free."
11. "I'm on one, two, three, four, five."
12. "Caught between space and time."
13. "I remember this on some days."
14. "This now, with good in mind."
15. "I let it all go, of everything that I know."
16. "Some day the drama'll be gone."
17. "Hold up, hold up."
18. "Once again I am a child."
19. "Some day, some day."
20. "I wanna hit the red dot, I'll never find."
Did you find something that will fit for your feed? Being young, you still have a lot of energy and risks to take in your 20s. Hopefully, this track has made you feel understood, but also inspired you to keep doing you. "Some day" you'll be following all of your dreams, and when that day comes, your feed will be looking brighter than ever. Just choose some lit Kanye lyrics in the meantime, OK? Soon enough, you'll be dropping your own version of a mixtape.