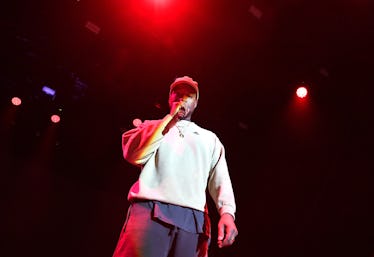 Kanye West Dropped A New Song With Kid Cudi & The Lyrics Will Have You Hype
Neilson Barnard/Getty Images Entertainment/Getty Images
Kanye West has been talking up releasing new music for the past few months and on Friday, June 1, he delivered his new album, Ye, following a listening party in Jackson Hole, Wyoming. The LP features a handful of industry heavy-hitters, including Ty Dolla $ign, Young Thug, and Nicki Minaj. He also teamed up with Kid Cudi for a song, and Kanye West's "Ghost Town" lyrics will take you deep inside the mind of the talked-about rapper.
Ye delves into a variety of intense subjects, from Kanye's mental health, to his wife Kim Kardashian, to the #MeToo movement, and even Stormy Daniels.
"Ghost Town," produced by Francis and the Lights, features Kanye's friend and "Blame Game" collaborator John Legend. The track also enlists the help of 070 Shake and Kid Cudi. The soulful song kicks off with Legend's crooning and launches into Kanye's part.
Here's a sample from his verse:
You might think they wrote you off. They gon' have to rope me off. Some day the drama'll be gone. And they'll pray .. no, oh, no. Sometimes I take all the shine. Talk like I drank all the wine. Years ahead but way behind. I'm on one, two, three, four, five. 
No half-truths, just naked minds. Caught between space and time. This now, with good in mind. But maybe some day.
Kid Cudi's chorus goes on to sing:
I've been tryin' to make you love me
. But everything I try just takes you further from me. I've been tryin' to make you love me
. But everything I try just takes you further from me.
Despite some of the heavier lyrics throughout ("I put my hand on a stove, to see if I still bleed") the track has an uplifting, sentimental, and almost hopeful feel. "Yeah, and nothing hurts anymore, I feel kinda free," 070 Shake echos repeatedly. Numbness might not be a necessarily positive emotional state, but maybe Kanye is attempting to point to the fact that there's freedom in not hurting or feeling anything. The idea of "someday" is also consistent in the song, so perhaps he's looking towards a better future. Are Kanye and company referring to the fans, the public, and the media when lamenting about "tryin' to make you love me"?
If Twitter is any indication, "Ghost Town" is already a fan favorite track from Kanye's latest.
Kanye has been making headlines leading up to the debut of Ye. In April, he kicked off a days-long Twitter rampage that outlined some of his philosophies and expressed his appreciation for Donald Trump. On April 18, he revealed he would be unveiling seven fresh songs on June 1. It looks like he came through on that promise. Kanye also teased Kids See Ghost, a group he and Kid Cudi have formed. He tweeted that their album will be released June 8. Hmm. Ghosts seem to be running theme when it comes to their creative partnership.
West went on to make a controversial appearance on TMZ Live on May 1, commenting that slavery "sounds like a choice..." Kanye even addresses the aftermath of that remark in the track "Wouldn't Leave," recalling Kim's reaction:
Wife calling screaming saying we're about to lose it all. I had to calm her down 'cos she couldn't breathe, I told her she could leave me now but she wouldn't leave.
Ye is West's eighth studio album, his last one being 2016's Life of Pablo. Kim K revealed via Twitter that Kanye "shot the album cover on his iPhone on the way to the listening party."
Ye is currently available on digital streaming services for your listening pleasure.