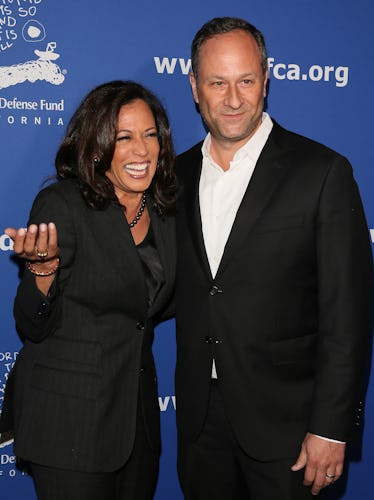 Kamala Harris' Quotes About Doug Emhoff Are Adorable AF
JB Lacroix/WireImage/Getty Images
Real talk: What's not to love about Doug Emhoff? He's Kamala Harris' No. 1 fan — not only does his Twitter bio reads "@kamalaharris hubby," but he regularly expresses how proud he is of her on social media. And he's also been known to heroically jump in to protect her when angry protestors storm the stage. So, it makes sense why his wife might be constantly gushing about him. In fact, Kamala Harris' quotes about Doug Emhoff are bound to make you love them even more — even if you thought that was impossible.
In January 2020, when Harris is sworn into office, Emhoff will make history as the first-ever second gentleman. But he's made it clear that his top priority and most important role is being Harris' right-hand man.
"I'm not overly political," Emhoff told Marie Claire in an October 2020 interview. "I'm overly her husband."
Time and again throughout Harris' political career, Emhoff has been a source of support, comfort, and encouragement. When she made the difficult decision to drop out of the 2020 presidential race, he told Marie Claire, "My role was to be there for her, to love her, to have her back, to talk it through, to help her." He also tweeted a pic of Harris sitting on his lap, with his arms wrapped around her as she leaned into him, and added the caption: "I've got you. As always." Side note: please do yourself a favor and get yourself someone who looks at you the way Emhoff looks at Harris.
Unsurprisingly, Emhoff has amassed a loyal following under the hashtag #DougHive — but the truth is, Harris was the OG member. Here are just a handful of the adorable things she's said about her hubs in recent years.