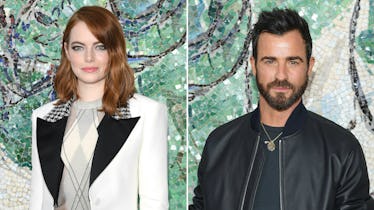 Justin Theroux Is In France With Emma Stone Now & I Can't Keep Up
Pascal Le Segretain/Getty Images Entertainment/Getty Images
Is it just me, or have we been hearing about some ~interesting~ pairings going on lately? I mean, we've got Priyanka Chopra and Nick Jonas. There's Ariana Grande and Pete Davidson. And now... now, we are seeing Justin Theroux and Emma Stone are in France together. What does this mean, you guys? WHAT DOES THIS MEAN? Elite Daily reached out to both teams, but did not hear back by the time of publication. Look, this could be nothing at all, or it could definitely be something. Even though it seems like a... unique pairing, the world has certainly seen stranger things.
So here's what apparently went down: Both Emma Stone and Justin Theroux were in France for the Louis Vuitton Cruise 2019 because they are ambassadors for the brand. I got the invite as well, but unfortunately had other plans, so I had to pass (but the FOMO is very real right now). According to People magazine, Theroux was seen "lounging shirtless in the sun next to Stone" on Tuesday, May 29, in a bungalow at Hotel du Cap Eden Roc. But to be fair, the magazine also reported that on Saturday, May 26, the Leftovers actor was also spotted shirtless with Spider-Man: Homecoming actress Laura Harrier at the very same hotel, so perhaps he's just friends with all of these absurdly talented and beautiful women? And has a sheer hatred for shirts?
Just say you hate shirts, Justin. We get it.
Normally, I'd see two actors hanging out and think nothing of it. Unless they are showing some serious PDA, I say live and let live. But, these two have been spotted together more than just once, making me wonder if it's just a friendship or something more.
Emma Stone and Justin Theroux were spotted grabbing dinner together in New York City on May 3. Some people might be saying, "So what? They're co-workers!," which — OK, true (they are both starring on the Netflix show, Maniac). But apparently, the show has been wrapped up for months, meaning the two clearly have made an effort to see each other after filming. Take from that what you will.
So, what are the chances we'll hear anything about these two really, really, ridiculously good-looking people possibly being an item? LOL, devastatingly low, sorry.
Plus, many fans are still hoping that Emma Stone and Andrew Garfield will get back together. After Page Six reported that the two were spotted a few weeks back dining in New York City, the rumor mill is, once again, churning. A source told the site that the two were "looking very much like a couple... They were talking and sitting very close." Apparently, they were also both "laughing and smiling," and "both seemed happy," but hey, you can do all of those things with someone who is just a friend, right? Elite Daily reached out to representatives of both Stone and Garfield for comment, but did not receive a response by the time of publication.
Then, of course, we have some speculation that Justin Theroux is dating Selena Gomez after an insider who is close to the pair told Life & Style that they've connected over their highly-publicized breakups. Elite Daily reached out to Theroux and Gomez's teams regarding the dating rumors, but did not hear back by the time of publication. The insider said:
They've known each other for years through their manager. Initially, they leaned on each other for emotional support after going through messy breakups.
It seems far-fetched, but then again, pairing Theroux with Emma Stone or Laura Harrier seems a little outlandish to me, too.
So, what's the verdict? I'll tell you: I have not a damn clue. And the, "Are they just friends or something?" more rumor mill continues!