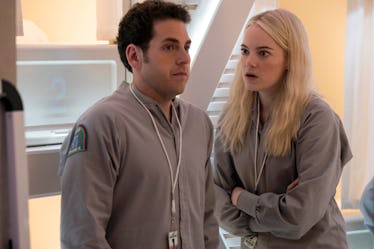 New Pictures From Emma Stone & Jonah Hill's Netflix Show Will Make 'Superbad' Fans Scream
Michele K. Short / Netflix
If you asked me a decade ago which young stars were likely to become acclaimed, Oscar-nominated actors someday, Jonah Hill and Emma Stone's work in Superbad definitely wouldn't have put their names on that list. Since they starred together in the 2007 comedy, Hill has scored two Oscar nominations, while Stone won a Best Actress Oscar for La La Land only two years after she received her first Academy Award nomination. All of that praise clearly hasn't stopped Hill and Stone from remembering their past together, as first look photos of their new Netflix comedy series Maniac are now out. I'm stoked to see such high-profile stars in a streaming project, so when does Maniac premiere on Netflix?
As of now, our only hint about the show's release date is that it will launch on Netflix sometime this year, but the streaming site's sneak peek photos of the series already provide major insight into the show's aesthetic. A remake of a 2014 Norwegian series with the same name, Maniac will be a 10-episode series also starring Sally Field and Justin Theroux. If you didn't already know, Netflix has totally reached the big leagues when it comes to snatching up major stars for projects. Director Cary Fukunaga, who has previously worked with Netflix on Beasts of No Nation, helms Maniac, while author and The Leftovers screenwriter Patrick Somerville has written the series.
Hill and Stone star as two strangers who became involved in a pharmaceutical trial gone wrong, but the other photos suggest that things soon take on a major sci-fi twist. One image shows Stone, Hill, and other actors in what look like spacesuits, which makes me think that an otherworldly setting will eventually be included in the show. It also looks like their brains are being examined - Black Mirror vibes, anyone?
Field and Theroux also appear in some of the first look photos, with Field's outfit suggesting that she's someone in charge and Theroux's also resembling an astronaut. Given the other pictures of Stone and Hill in fairly normal outfits, my prediction is that the series starts out in a very contemporary fashion but then delves into wacky, genre-bending territory. There is such a range of original Netflix shows nowadays that the limit literally doesn't exist for Maniac's story potential.
The cast hasn't publicly shared much about the project yet, but the series began filming last summer in New York City. According to Collider, the original Norwegian series focuses on two characters left to escape into their own dream worlds as they remain trapped in a mental institution. We don't know how faithful this new adaptation will be to the source material, but Fukunaga will definitely put his own twist on these plots.
For Stone and Hill, who both have producer credits on the series, Maniac will be their first times starring in a live-action TV show. Despite how little is known about the show, Rolling Stone listed it as one of the most anticipated shows of 2018, which I'm fully accepting as a strong endorsement.
On Twitter, fans of the actors are seriously intrigued by the photos, but some obviously couldn't resist making jokes about the two's Superbad past:
This in-depth look into the series totally makes up for knowing so little about the show beforehand. No matter when Maniac finally hits Netflix, I know that an epic press tour with Stone and Hill reminiscing about their early work together is in store. Even if Maniac isn't destined to be your thing, those dual interviews alone are a perfect gift for fans, right?
Maniac will debut on Netflix later this year.