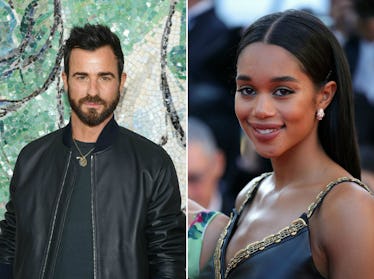 Justin Theroux Is Getting Close To An Actress That's NOT Selena Gomez & I'm So Confused
Pascal Le Segretain/Getty Images Entertainment/Getty Images | Andreas Rentz/Getty Images Entertainment/Getty Images
Justin Theroux has been laying low since his split from Jennifer Aniston. While Theroux has been the subject of a few dating rumors (like that one about him seeing Selena Gomez), the media's been relatively quiet about the 46-year-old actor. But new rumors are just about ready to swirl. Theroux was recently spotted vacationing in France and reportedly getting cozy with actress Laura Harrier. Although Theroux is said to be friendly and sociable, the photos of him and Harrier have people talking. So, are Justin Theroux and Laura Harrier dating? Maybe! Elite Daily reached out to Theroux and Harrier's reps for comment, but did not hear back by the time of publication.
Theroux was photographed with Harrier this past Saturday, May 26, in the south of France. While taking in some sun, the actor showed off his rock-solid abs and had a bit of fun with Harrier. The two were spotted aboard a luxurious yacht, sparking rumors that they're in the midst of a budding new relationship.
But does a little bit of fun in the water mean the two are in a relationship? Not necessarily.
In a new report from Entertainment Tonight, a source close to Theroux explained that the actor is not exactly looking for a relationship:
Justin is not in a relationship. He's super social and loves meeting new people and collaborating on ideas with friends. These days he's been spending time with friends and family – he's super close with his brother.
Is that a no on dating Harrier, then?
Maybe Theroux was just hanging out with a friend. Or maybe he's playing the field. Or messing with the paparazzi. Maybe it's all of the above!
Whatever the case, Theroux definitely seems like he's loving life now that he's single.
As previously mentioned, Theroux called it quits on his marriage in February 2018. At the time of the split, Theroux and Aniston released a joint statement that read:
In an effort to reduce any further speculation, we have decided to announce our separation. This decision was mutual and lovingly made at the end of last year. We are two best friends who have decided to part ways as a couple, but look forward to continuing our cherished friendship. Normally we would do this privately, but given that the gossip industry cannot resist an opportunity to speculate and invent, we wanted to convey the truth directly. Whatever else is printed about us that is not directly from us, is someone else's fictional narrative. Above all, we are determined to maintain the deep respect and love that we have for one another.
Yeah, that was a tough bit of info to swallow for everyone. So many fans were rooting for them! But it just wasn't meant to be. The two have been working on moving on.
Since the split, the Leftovers star has been seen out on the town in New York City quite often. This month alone, the actor's name has been attached to a slew of women. In early May 2018, Theroux was spotted out with artist Petra Collins. He was then seen with his good friend and fellow actor, Emma Stone, during the Met Gala. To round out the month of May, Theroux was also rumored to be dating Selena Gomez.
And now, there's the Laura Harrier rumor to consider. So, what's what, Justin Theroux? Who's going to snag this guy next? Hopefully someone lovely!
For those of you who don't know, Harrier is a rising star herself. The 28-year-old actress is fresh off her BlacKkKlansman film, which has received rave reviews so far. She's also had roles in 2017's Spider-Man: Homecoming and Fahrenheit 451. So, if she is Theroux's latest squeeze, then she's quite the match for him and his illustrious career.
Whatever is happening between those two, they look like they're having a great time!