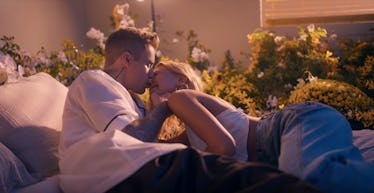 Justin & Hailey's Body Language In The "10,000 Hours" Video Is So Unclear
Stop what you're doing, because Justin Bieber's new song with Dan + Shay has "cuffing season anthem" written all over it. The song, "10,000 Hours," is about getting to know the person you love even if it takes 10,000 hours. Get it? If that's not enough to make you tear up, the video stars the three singers and their partners. That means not only do you get to cry over Dan Smyers and Abby Law, and Shay Mooney and Hannah Billingsley, but fans also get to see what Justin Bieber and Hailey Baldwin's body language in the "10,000 Hours" music video says about their relationship dynamic.
While body language isn't an exact science, experts say there's a lot you can tell about a couple by the way they touch, look at, and move around each other. But body language can also be really easy to fake, and in the case of the "10,000 Hours" music video, it's hard to tell what's real and what's not. Ultimately, music is Bieber's job, and modeling is Baldwin's. It's safe to say they're both pretty good at what they do, so it's hard to tell whether or not their body language in the video is a reflection of how they really feel about each other. Nevertheless, I asked body language expert Dr. Lillian Glass what she sees in their physical dynamic, and honestly, I was surprised.