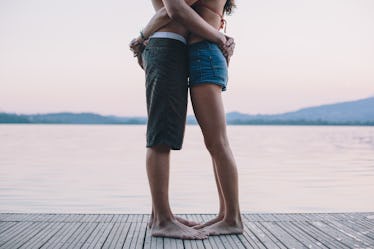 A Body Language Expert Breaks Down 3 Ways To Know A Couple Is Definitely In Love
If you've ever found yourself wondering why those obnoxious teenagers at the mall can't seem to stop PDA-ing, it turns out they might actually really be in love! Go figure! It's not surprising that our bodies are intrinsically linked to our emotions, and body language clues that a couple is in love are generally pretty easy to spot. There's something heart warming about seeing a cute couple meandering through the park, laughing and gazing into each other's eyes, and being able to suss out if the connection between two people is real is a pretty practical skill.
Trust me, you don't want to go along with your best friend's shot-gun wedding, only to realize that her body language was practically screaming that love was the last thing in the air. I'm speaking from experience when I say this is a total drag. Right? Anyone? Anyone?
To give us the necessary tools to save our beloved friends and family from themselves, I spoke with body language expert Traci Brown, author of How to Detect Lies, Fraud and Identity Theft: Field Guide. Turns out, couples in love aren't actually conscious of their physical interactions. It all comes very naturally.
"[Actually,] all are unconscious! That's below the level they're aware of," Brown tells Elite Daily. "So they don't know they're doing it, but it's very revealing. Where the mind goes the body will follow."