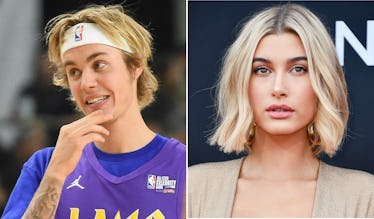 Justin Bieber & Hailey Baldwin Just Got 'Stranded' In The Hamptons & It's Pretty Funny, TBH
Jayne Kamin-Oncea & Frazer Harrison/Getty Images Entertainment/Getty Images
In hilarious celebrity news, Justin Bieber and Hailey Baldwin suffered some 4th of July blues this week in their very expensive, very shiny, very futuristic car in the super lovely Hamptons. Shucks. The two were spotted stuck on the side of the road when their ride apparently broke down very close to Hailey's uncle Alec Baldwin's home. Reports are now saying Justin Bieber and Hailey Baldwin were "stranded" in the Hamptons, which sounds more like a blessing than a curse to me.
The two were visiting the Hamptons as part of their "make out everywhere we can" tour and appear to have been on their way to spend some quality time with Baldwin's family. According to a source who spoke with AOL, the two looked "distressed," but I imagine it was actually more slightly inconvenienced. One source said, "Bieber and Baldwin were stopped in the middle of the street" and were "approximately 1000 yards" from Alec Baldwin's house. Not that that person is a creepy stalker and would know exact measurements or anything... (???)
Baldwin was reportedly "trying to direct traffic after Bieber stalled out in a borrowed Mercedes." The source added the pair was "incredibly calm and unfazed by the event as they waited for the local garage to pick up the car." Ok... so... not distressed, then. To be honest, I don't know what they would have to worry about (besides maybe a little sunburn) while they waited for help. These two seem downright elated to be alive. They're making out everywhere they go, walking around with no security, taking selfies with fans, and in general seem unfazed, unbothered, and uninhibited in their young famous lives. All's well that ends well, and Bieber and Baldwin went on to enjoy their holiday week at a Hamptons' beach.
Their rapidly growing relationship felt a little bit out of left field after Baldwin walked the Met Gala red carpet with Shawn Mendes. Plus, there's always that on-again, off-again thing Bieber has going on with Selena Gomez. Still, sources say it's different this time around for Baldwin and Bieber who briefly dated in 2016. A source told PEOPLE magazine, "Right now, Justin is very happy with Hailey. They have been traveling together between the East coast and L.A. now for the past couple of weeks."
The insider added their relationship has been up and down in the past, but for now they're casually dating. The insider said,
He always had a lot of love for her. But there was a reason for their split too. They are usually good for a while and then they are not. They do look serious now, but they are both young and passionate. It's nothing to read into seriously. There are no wedding bells ringing.
Who said anything about wedding bells?
Baldwin even admitted she and Bieber have a complicated history. In a recent interview with UK's Sunday Times she explained, "I met [Justin] when I was really young and he was one of my best friends. Everybody knows that at a certain point in time that turned into something else, but that just happens when you're 18, 19. It was what it was." She added, "We didn't speak for quite some time and there was a lot of weirdness that went on but we've moved past that."
Clearly.
For now, I imagine the two are cozied up somewhere waiting for 4th of July fireworks to start but will surely pop out again soon to kiss in public. Hopefully, it won't be on the side of the road, but you never know.
Check out the entire Gen Why series and other videos on Facebook and the Bustle app across Apple TV, Roku, and Amazon Fire TV.