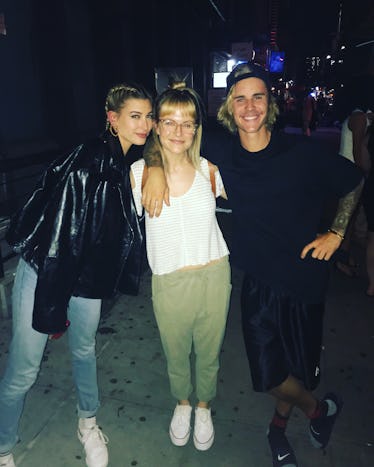 I Made A Vow To Meet Justin Bieber & 3 Months Later, I Finally Did It
Courtesy of Rosebud Baker
Hello there. Hi. I am a woman in her 30s. I have a steady income, I have two dogs (alive and vaccinated), I have a boyfriend (who is actually nice to me), and I have a skincare regimen. In many ways, I am a full-blown adult, except for the fact that I co-host a podcast dedicated to meeting Justin Bieber. That's right, I made a vow to meet Justin Bieber, a vow I made with another adult woman in her 30s named Corinne Fisher. Then, we made a podcast dedicated to that quest.
Corinne and I officially came out about our love for Bieber when we launched Two Less Lonely Girls, which we began in the hope — nay, the belief — that somehow, some day, we would get to meet our teen-heart-throb-baby-boi Justin. It's been three months since our first episode, and in true Belieber fashion, we did it. We met Justin, in person, on the streets of New York.
Maybe it's fate, maybe it's Twitter, maybe the power of love propelled us, but three months after making a vow to meet Justin (and launching a podcast dedicated to our quest) we've done it. It happened this week, and all I can say is, #neversaynever. Here's how we've managed to turn ourselves into straight-up paparazzi in just 12 weeks.
Phase 1: Justin's Mom Started Following Me On Twitter
[this embed isn't showing up, not sure if IG stories work on our CMS. would you be able to post this to Twitter or Insta and embed from there?]
Corinne and I started the podcast by pushing it pretty hard on Twitter and IG, and I guess like any mama bear, Pattie Mallette (aka Justin Bieber's mom) keeps an eye out for anything involving her son.
It probably helped that I'm verified on Twitter, so my name might've popped up first on her feed if she were combing the interwebs for her son's name, but shortly after we released the podcast, Pattie followed me on Twitter and told me she listened to the podcast. In fact, Corinne captured my hysteria of seeing that Pattie followed me on Twitter in real time, as we'd literally JUST finished recording an episode when I found out.
Phase 2: We Infiltrated His Megachurch & Got His Priests' Attention
Any true Belieber has known that through the up and downs of his life, Justin has turned himself around thanks to his love of the Big Guy in The Sky, also known as God. The handsome songbird had a rough go of things back around 2012-2014, but his bad boy phase ended as soon as he found Hillsong Church and his pastor, Carl Lentz. Naturally, we had to go see what all the buzz was about, and we did so firsthand by doing a whole episode on our journey to Hillsong.
And, belieb it or not, the church's pastor, Carl Lentz, reached out on Twitter to let us know he would give it a listen. Call it the Law of Attraction, call it the Power Of Christ, call it Twitter's algorithm, but we were on a roll.
Phase 3: We Interviewed A Street Journalist
With the traction and confidence boost we'd gotten from Carl and Pattie's support on Twitter, Corinne and I sought out some help from an expert. Adam Glyn, a standup comic and former TMZ reporter, came to the studio to tell us about his personal experience meeting Bieber (back in the days when he still had bangs!) and to give us some tricks of the street journalism trade.
What happened next took a string of cosmic occurrences I can only attribute to fate.
Phase 4: We Became Street Journalists
Thursday night. I was sitting on my couch, relaxing, watching The Handmaid's Tale, enjoying a nice cathartic cry, when I got a text from Corinne that read, "WHERE ARE YOU."
I knew already that Justin was in New York, because like any good Belieber, I'd been following his whereabouts through multiple fan accounts on Instagram. Bieber had been making out with Hailey Baldwin ALL over Brooklyn and Manhattan for the last week. Everywhere, with no security, like they truly DGAF.
All these things considered, I replied, "WHERE AM I SUPPOSED TO BE?"
Corinne informed me that a source had just run into Justin and Hailey at The Bowery Hotel Bar. I got in a Lyft and proceeded to film the entire saga through my Instagram Stories, as did Corinne, and the listeners were pretty much loving the insanity.
I got to the hotel bar and wandered around looking for Justin. Eventually, I saw him there. I was shaking like I was a passenger in a plane about to crash, so I decided to wait outside for Corinne to come and meet me. After all, this was a vow we took together, like a marriage, but more sacred.
But destiny had other plans. Justin and Hailey exited the hotel as Corinne was on her way to meet me. As they were walking away, I screamed "JUSTIN!" and finally, this happened:
I seized the opportunity, ran up to Justin (even though he was visibly annoyed at my hounding him) and explained that I'm a standup comic with a whole podcast dedicated to him, and then I told him how happy I was that he and Hailey were back together. He smiled and said, "thank you so much, she's the most important person in the world to me," (a quote that's gotten a LOT of negative feedback from Jailey haters on Twitter) and then we snapped a pic, and the two lovebirds went on their way.
But out of sheer dedication to my female friendship with my podcast co-host, and our newfound love of street journalism, I followed the celebrity lovebirds on foot throughout lower Manhattan, keeping tabs on their whereabouts until Corinne caught up with me. She body-rolled out of a moving SUV when she spotted The Biebs, and finally got her chance to shake the hand of the Mustachioed Songbird himself.
It was a wild night. Needless to say, I feel like we both achieved the modern American Dream. We met Justin Bieber, we shook his hand, and we made a podcast about it.