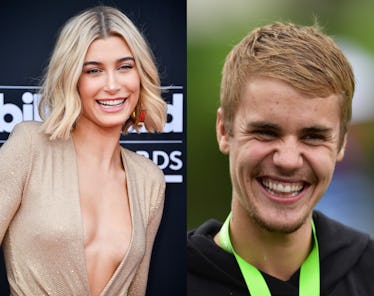 Justin Bieber & Hailey Baldwin Took A Major Step In Their Relationship & I'm Sweating
Frazer Harrison/Getty Images Entertainment/Getty Images & Stuart Franklin/Getty Images Sport/Getty Images
What did we even do in the days before social media allowed us to announce our relationship status ASAP? So much confusion and uncertainty about high school relationships was forever resolved thanks to Facebook, but if you're a fancy celeb, apparently all you need to confirm a relationship nowadays is the briefest of Instagram shoutouts. Case in point: Justin Bieber Instagrammed Hailey Baldwin, and I'm freaking out about what this means. To say the least, it looks like "Justley" (or is it Jailey?) is officially official.
According to The Cut, the speculation about Bieber and Baldwin getting together after a short-lived fling around 2015 has seemingly been put to rest thanks to a recent Instagram Story on Bieber's account. On Saturday, he shared a video in which 21-year-old model Baldwin sticks her tongue out at the camera. Given Instagram Stories' 24-hour lifeline, the video is no longer available on Bieber's page, but Beliebers obviously came to the rescue for anyone who missed the subtle relationship shoutout.
The moment is ridiculously brief, but seeing how comfortably dressed Bieber and Baldwin appear to be, it seems like Bieber, 24, was letting us into a casual weekend date between himself and Baldwin. So, definitely a more low-key day than their public makeout sessions last week in New York.
Anyone else think it's funny how such a chaste video is seemingly confirmation of a very PDA-heavy couple officially dating? In addition to Bieber and Baldwin's cozy dalliance in several New York City public parks, TMZ reports that the couple also spent a weekend together in Miami, where they hit the clubs and then church. If you've kept tabs on any of Bieber's previous relationships, you know that this is the winning combination of date activities for the singer. He attended church services with ex-girlfriend Selena Gomez several times, and we all know that Bieber loves his partying.
While the latest attempts at a relationship between Gomez and Bieber reportedly ended in May 2018, Baldwin was linked to Canadian singer Shawn Mendes until rumors of her dating Bieber again emerged this month. According to Seventeen, Baldwin and Mendes sparked relationship rumors when they attended the Met Gala together in May, but the two each frequently insisted that they were just good friends.
Speaking to W magazine soon after the Gala, Mendes even avoided the juicy dirt that his interviewer was obviously trying to weasel out of him, saying about Baldwin:
We're really good friends. It's funny, she's such a pro with this type of stuff. I want it to be amazing for her, so I've been trying for the past 24 hours to be really silly so that she stays on. I'm happy to walk with her — she's amazing.
Being the true hero in this situation, Mendes even shared his support of Bieber and Baldwin being together while on the Canadian entertainment show ETALK, saying:
I think that's awesome. I love them both. They're both really awesome people. When I first started out, everybody was like, 'Oh, how do you feel about being compared to Justin?' I was like, 'What do you mean, how do I feel?' That's the best thing anyone could say to me. He's the man.
OK, so it doesn't seem that there's a backstabbed ex in this narrative. Well, unless you count Gomez and the uncertain terms of how she and Bieber called it quits — don't worry, girl, there are plenty of other fish in the sea.
Mendes isn't the only one who loves the new couple. On Twitter, fans responded to Bieber's brief Instagram video pretty positively, so it looks like Beliebers definitely approve of this relationship.
Of course, there's always the possibility that Baldwin and Bieber are just messing with us for fun, but I'm choosing to take this little Insta moment seriously. If Bieber showing us Baldwin's tongue was meant as relationship confirmation, I wish these two crazy kids the best.