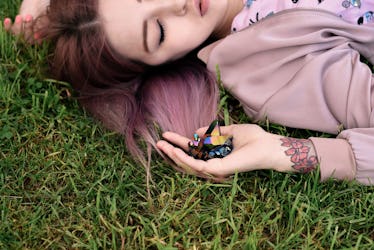 These 3 Zodiac Signs Will Have The Worst Week, But Here's What They'll Walk Away With
By the end of July, six planets will be in retrograde at once. Make no mistake: This summer will include so much more than just relaxing by the pool, going to parties, and taking a break from reality. It's a season of fierce challenge, backward movement, and learning. Although all of it is leading you toward growth, it may be some time before you finally begin to see the fruits of your labor, because retrogrades slow things down. When you take one step forward, it may instead feel like you're taking two steps back. However, there may still be work to be done that you may have overlooked. Remember, the universe never puts you through something for no reason, and as of July 9, 2018, this will be the worst week for these zodiac signs: Aries, Leo, and Scorpio. If your sun or rising signs fall under any of the following, you'll feel the astrological thunderstorms the most.
As retrogrades continue to test the patience of the zodiac, a partial solar eclipse in the sensitive water sign of Cancer announces the ending of one chapter and the beginning of another. Change rarely ever occurs without some kicking and screaming. It's not always easy to let go of the past. However, if you're having trouble, try to trust that the future is full of possibility.
Aries: Your Needs May Be At Odds With The Needs Of Others
This week, you could feel like you're being pulled in two different directions, and confused over which instincts to follow. As Mars, your ruling planet, continues its backward tailspin through your 11th house of community, you may feel disconnected to your social circle, perhaps even frustrated with your relationships. This dissatisfaction may also take the form of an overall apathy with the world, causing you to feel like no one is moving in the right direction while you're getting lost in the mayhem.
As a partial solar eclipse dawns in your fourth house of core values, you're in the process of reshaping your world to match your specific needs. This may no longer match your surroundings, causing you to feel alone with your individuality. However, you're reaching a light that only a few special souls will understand. Dance in it.
Leo: You Could Be Facing Difficult Realizations About Life
Since the sun is your ruling planet, solar eclipses always affect you on a deeply personal level. If you feel like your entire world is changing right before your very eyes and no one else sees what you're seeing, don't be alarmed. As the partial solar eclipse lights fire in your 12th house of the subconscious, you're going through immense introspection and delving into your shadows. It wouldn't be the worst idea to set aside time for solitude, reflection, and meditation. You're receiving loads of cosmic data from the universe, and if you don't take time to ruminate on your thoughts, you could end up feeling overwhelmed and stressed.
With Mercury in your first house of the self, your cognitive functions are fully energized, and you have all the power to make sense of what you're learning. Just make sure you organize your feelings and take care of your needs first. It's all powering you in the long run.
Scorpio: You May Be Feeling Touchy Or Defensive
You may be having difficulty understanding who to trust lately, making it so much harder for you to handle criticism and stress. With Mars, your ruling planet, stirring things up in your fourth house of the home through a retrograde, you're reevaluating your values, your base, and your closest relationships. Since this planet also rules over aggression, feistiness, and irritability, don't be shocked if you're feeling like your loyalties are all over the place. If you're defenses are flaring up at the first sign of harm, it might be time to take a break and realign your spirits. Don't feel guilty for disappearing into your own world if you need to.
When Jupiter moves direct in your first house of the self this week, you'll begin to make sense of the internal war you've been undergoing for the last few months. Take time to listen to your heart, to piece together wisdom that you can lean on. You know all the answers right now. You just have to ask yourself the right questions.