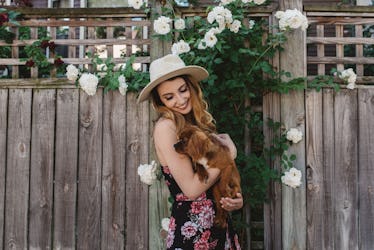 These 3 Zodiac Signs Will Have The Best Week & Nothing Can Dull Their Shine
If you feel like a dramatic shift is currently taking place in your life, it's no coincidence. Last week, a partial solar eclipse in Cancer announced the beginning of an intense period of transformation. While an amalgam of tears, laughter, anger, and ecstasy is likely to brew, everything is coming together to form something that your soul has been aching for. If the changes are feeling like more than you bargained for, trust in the cosmos. This week, the planets are coming to your aid, here to give you all the strength you'll need to get through this trying time, and July 16, 2018, will be the best week for these zodiac signs: Cancer, Leo, and Libra. If your sun is not in any of these signs, make sure to check if your rising sign is.
Bashful Venus, ruler of love, friendship, beauty, and all things romanic, is sweeping your world with an iridescent light. She is here to make the shadows more bearable, to spread elegance across all the trouble. As Venus forms a trine with Jupiter and a sextile with Venus, you will feel your power expanding and your level of discipline sharpening. With a last quarter moon in Libra pouring a dose of revitalizing grace into your soul, this week is your chance to take as much care of yourself as you can.
Cancer: There's No Way You Won't Be Able To Have Fun
You're still coming away from the galvanizing effects of the partial solar eclipse. As it took place in your first house of the self, you're in the process of reshaping and strengthening your identity. It's pushing you to crawl out of your shell, take a risk, and embrace fresh attitudes toward life. With the sun still crowning you queen through Cancer season, this week is presenting you with the last few hurrahs of your royal status. Allow the remainder of your solar return to go out with a bang.
With Venus in your third house of communication, you're expressing yourself to the fullest extent of your truth. Its harmony with Jupiter and Saturn in your pleasure and relationship houses is enhancing your world with intimacy, creativity, and authenticity. Let it guide you through your next chapter.
Leo: You're On The Brink Of Your Ultimate Power
As this week comes to a close, you're becoming queen of everything through Leo season. It's time to let that lion sitting in your heart roar with all its might, because now, you're on top of the world. As the sun powers you through your first house of the self, you're fully committed to every action you take, putting your entire self into every move. Don't doubt yourself for one moment, because your solar return is reminding you just how awesome you truly are.
As you come away from the chaotic effects of the partial solar eclipse last week, your solar return couldn't have come at a better time. If you're still reeling from uncomfortable discoveries and a sense of loss, it's time to build something amazing from the wreckage.
Libra: Everything Will Feel So Right In Your World
Your ruling planet, Venus, is flowing gracefully and freely through our solar system this week. As it sends light to your 12th house of the subconscious, your inner world feels like a powerful and wonderful place to be. Spend time there. Don't allow negative outside forces to tamper with your peace. When Venus forms a powerful trine with Jupiter in your second house of finance, you'll feel your ability to incorporate more wealth into your world expand. As it forms a sextile with Saturn, god of boundaries and discipline, you're learning just what you need to do to become a harder and more diligent worker.
As the first quarter moon in your first house of the self comes to light, you'll experience a sense of calm circulating within. This is a great week to reflect on your inner world and make sense of things.