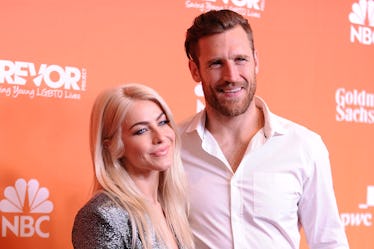 Wow, Julianne Hough & Brooks Laich's Relationship History Is Intense AF
Jason LaVeris/FilmMagic/Getty Images
A professional hockey player and a ballroom dancer may not seem like the most likely duo — but as they say, opposites attract. That seems to have been the case for Julianna Hough and Brooks Laich, at least. This star couple has been through a lot over the years, including career changes and the passing of their two dogs — but each time their bond has been put to the test, they seemingly come out stronger. Indeed, Julianne Hough and Brooks Laich's relationship timeline is full of all kinds of twists and turns, but so far, they've survived them all.
A scroll through their Instagram feeds suggests that Hough and Laich have a picture-perfect relationship, but other signs in recent years have suggested that just like every other couple, they do have their own struggles and setbacks. TBH, that only makes them all the more relatable and lovable. As rumors of trouble continued to spread about the state of their marriage, only Hough and Laich know the truth. (Elite Daily previously reached out to their reps for comment on their relationship but did not hear back in time for publication.)
One thing's for sure, though: These two have proved time and again that they care deeply about each other, and they're not giving up easily. "At the end of the day, they love each other and they are still together," an inside source recently told Us Weekly.
What makes Hough and Laich's relationship stand out is that they're seemingly always pushing each other outside of their comfort zones, while learning and evolving and growing together. In fact, in a February episode of the "How Men Think" podcast, Laich gave his wifey credit for motivating him to explore his sexuality on a deeper level. During their travels, they've done everything from climbing Mount Kilimanjaro, the highest peak in Africa, to educating themselves about Rwanda's history of genocide.
There's so much that's happened between these two lovebirds over the years – so let's start at the very beginning of their whirlwind saga, shall we?