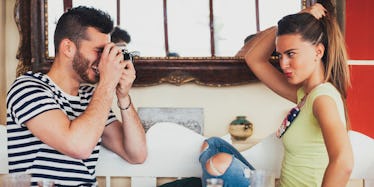 7 No-Think Ways To Bring The Spark Back Into Your Stale Relationship
Think back to the moment when you first fell in love with your partner. You probably couldn't wait until the next time you could see each other. However, as time goes by, people get more comfortable and fall into routines.
It's normal to form habits and forget about some of life's more adventurous elements. But this can quickly lead to your "honeymoon stage" slipping away.
Remember to revisit it every once in a while. Your relationship can grow as the both of you do. Don't wait until it's too late. Here are seven ways to bring the novelty back to your relationship today:
1. Pamper yourself.
In order to bring a more active and fun energy into your relationship, you need maintain your own identity. Go shopping with your friends. Do something without your partner.
Treat yourself to something sexy, and have fun with it when you get home. If you want to treat your relationship with love and support, you must first give it to yourself.
2. Play a board game.
Don't just make time for the sexual part of your relationship. Enjoy it and make it fun.
Long-term relationships tend to get repetitive. It's up to you and your partner to create new ways of connecting.
Try playing a (sexy) board game. There are many out there for couples who are looking to explore and connect. They provide an effective way to give shy individuals a safe environment to experiment.
3. Plan a surprise day for your partner.
Don't just have date night. Do something exciting, and make it a surprise. Focus on your partner's interests, and cater a special day geared toward the things he or she loves.
Showing this sort of attention to your partner can often become forgotten as time goes by. To keep your spark alive, you need to always show your appreciation for your partner.
4. Take photos of each other.
You don't have to take nude photos of each other. You can take sexy photos of each other, or perhaps a quick snapshot during a day at the beach or while on a hike.
These pictures become lasting memories. The simple act of framing a photo and placing it in your home helps both partners focus daily on their love and happiness.
5. Try something new.
Do something together that neither has ever done before. Maybe it's a yoga class. Maybe it's ice-skating, or maybe it's a tennis lesson. Make it something you both have an interest in, and share the experience.
Relationships are constantly evolving, as the people involved are doing the same. To continue to learn and grow together, you need to do new things.
6. Change up your routine, and stop planning.
We all have weekly schedules and routines. Maybe yours is going to the grocery store on Monday, doing laundry on Tuesday, etc. However, it's important for your relationship for you to stop planning everything every once in a while.
Let the day take you wherever it wants. Spice it up with spontaneity so that your fun meter stays in balance. The possibilities are endless when you open the door and let life happen.
7. Stop defending yourself.
It's natural for people to defend criticisms, and it's easy for them to become constant in romantic relationships.
You know each other intimately, and open communication can become difficult if you both are counterattacking one another. With both your heart and your mind, listen to what your partner has to say. Instead of making excuses when your partner gives you feedback, remain compassionate.
It can be easy to forget to pay the same amount of attention to our partners as we did when we first met. However, it's essential to care enough and focus on what's really important.
Take care of yourself, and treat your relationship with kindness. Use this list as a guide, and remember to have fun while doing the things you both enjoy.