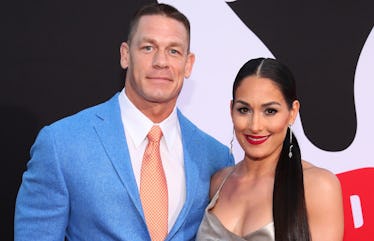 John Cena Just Posted The Sexiest Tweet & It Better Be About Nikki Bella
Christopher Polk/Getty Images
John Cena and Nikki Bella might be getting back together. Eventually. Soon? Probably. Not yet. They already are? I don't know. This whole whirlwind has been kind of confusing, but the pair definitely seems to be on the path to reconciliation. Cena has publicly said he wants to be the father of Bella's children, and Bella has said she needs some more time before getting back together, though she admittedly is open to it. Now, John Cena's sexy tweet has fans wondering if he was slyly flirting with his ex-fiancée.
On Monday, May 28, Cena tweeted, "Let's stop messing around, and start messing around." Steamyyyyy! But wait, it gets even steamier. According to E! News, Cena and Bella were seen getting lunch together in San Diego just hours after this tweet was posted. John Cena: Let's start messing around. Nikki Bella: Yes, but first, food. A source who reportedly saw Cena and Bella at the restaurant in San Diego said they "looked very much together," so this break just might be over, people.
Bella and Cena broke off their engagement not long before they were set to get married in April. The biggest issue between the pair — which will be one of the main plot lines of the current season of Total Bellas — was reportedly the fact that Bella wanted kids and Cena didn't. Cena has since turned around and said he wants to be the father of Bella's children, however, so it looks like their breakup made both of them do a lot of soul-searching.
Cena tweeted this ~steamy~ tweet on May 28.
Some fans took it as him flirting via subtweet with Nikki Bella.
Others were just shook by the sexy tweet in general.
According to People, Cena and Bella are basically back together. A source told the outlet,
John has constantly been in touch with Nikki. They will almost definitely get back together. They're definitely on a path to reconciliation. John is the love of her life, and she's definitely the love of his life, and that doesn't just vanish overnight. At the end of the day, they still want to be together.
Elite Daily reached out to Bella and Cena's teams for comment on this report but did not hear back by the time of publication.
A source then told Us Weekly that Bella hadn't moved out of Cena's apartment. "Nikki hasn't moved out of John's apartment, even though she very much wanted to after the wedding was called off," the source said, adding that John "doesn't want her to have to deal with moving after everything they have been through as a couple." Elite Daily also reached out to Bella and Cena's teams for comment on this report but did not hear back by the time of publication. Bella dispelled this report in a vlog she posted on YouTube on May 8, however. In the video, she said she's staying with her sister, Brie Bella, and her husband.
That was a lot of info to take in, so let's do a quick recap:
1. Nikki Bella and John Cena aren't officially back together (that we know of).
2. Bella and Cena are not currently living together.
3. Getting back together seems almost inevitable at this point.
All caught up? Great.
In an exclusive interview with Elite Daily, Nikki Bella said she needs some more time to herself to work on self-love and self-care before getting back together with Cena. When asked to comment on the video where Cena revealed he wants to have kids with her, Nikki Bella told Elite Daily, "It still hasn't sunken in. I think it's because I've still been in New York, so it's more of a numb feeling."
She continued,
I think I'm going to need to go home and be in my surroundings to fully digest everything, but I think John is such an incredible man. He's amazing. He's my best friend. And I truly have hope for us in the future, but I know only time will tell.
Whatever the fate of John Cena and Nikki Bella's relationship is, fans are feeling some whiplash amid all of these they're back together/they're not back together stories.
Honestly, fair. This whole ordeal has been so confusing. What is the truth, Nikki and John?!