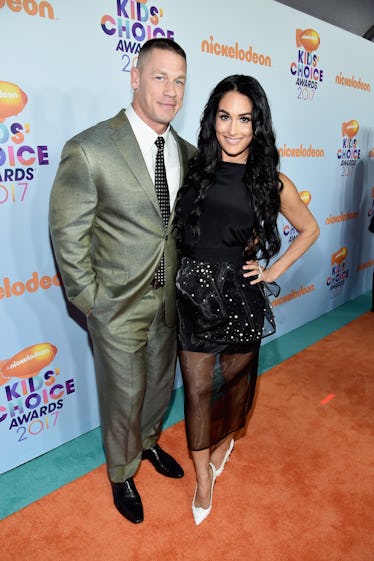 John Cena & Nikki Bella Might Be Getting Back Together & I'm Screaming
Alberto E. Rodriguez/Getty Images Entertainment/Getty Images
There might be some good news on the horizon for fans of John Cena and Nikki Bella. Many were devastated upon hearing the news on April 15 that the couple was separating just weeks before their destination wedding in Mexico. For many, watching their relationship on Total Bellas and watching Cena propose on live television during Wrestlemania 33 only made the split even more upsetting. But now, things might be looking up, according to a new report. Like, really up, leading many to wonder if John Cena and Nikki Bella are back together.
A source told Us Weekly that Bella is still "spending nights" with Cena despite their breakup. "Nikki hasn't moved out of John's apartment, even though she very much wanted to after the wedding was called off," the source said, adding that Cena "doesn't want her to have to deal with moving after everything they have been through as a couple." Elite Daily reached out to Bella and Cena's teams regarding the report but did not hear back by the time of publication.
And let's not forget that this report comes just days after People reported that the couple will "almost definitely get back together." An inside source said:
John has constantly been in touch with Nikki. They will almost definitely get back together. They're definitely on a path to reconciliation. John is the love of her life, and she's definitely the love of his life, and that doesn't just vanish overnight. At the end of the day, they still want to be together.
Elite Daily reached out to Bella and Cena's teams regarding the report but did not hear back by the time of publication. Am I being too hopeful by wanting to believe all these reports? I feel like I might be... but also, I don't care.
The inside source continued, explaining that their relationship is similar to Carrie and Big's relationship in Sex and the City.
"John's almost never been alone, and he can't be alone, and it's definitely hitting him that he would be making a huge mistake if he let Nikki go for good," the source said. "He wants to figure out how they can put this back together, and that's where her heart is, also. In some ways, this is almost exactly the plot of the first Sex and the City movie: when it's just the two of them, they're fine."
Please, please, please tell me that John Cena and Nikki Bella's relationship is basically the plot to the first Sex and the City movie. That would make this whole thing a lot easier.
While we don't know anything for sure, what we do know is that Nikki Bella finally posted a video on YouTube on Tuesday, May 8 to thank her fans for supporting her through this difficult period of her life. But in the video, she says that she's been staying with her twin sister, Brie Bella, for reasons that "we all know why," which conflicts the recent report that Bella hasn't yet moved out of Cena's apartment.
Insert sad face here.
Bella also talked about tuning in to watch the newest season Total Bellas, noting that it's a great season but will be a "tough one" for her to watch. "It's a really good season, it's gonna be a very tough one for me to watch, but hey, that's life, right?" Bella said. "Thank you all for your love and support with all of that. It's been a tough time, but that we can save for another vlog. We won't get that right now! I love you all, and I thank you again for your support."
You can watch her video here, and let me just say that she looks absolutely amazing, despite going through such an incredibly hard moment in her life:
Whatever happens, I just hope that these two can stay amicable with each other, at the very least. I mean, I'd love to see John Cena also re-propose to Nikki Bella with a shoe, but I feel like that's just too much wishful thinking.
But seriously, I'll take anything at this point. I miss these two together, and hope that they can find a way back to each other.