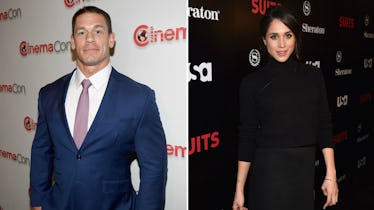 John Cena Would Love To Walk Meghan Markle Down The Aisle After Canceling His Own Wedding
Ethan Miller/Alberto E. Rodriguez/Getty Images Entertainment/Getty Images
It takes a lot to confuse me. I'm quick-witted, I've got street smarts, and I can generally decode a situation that might perplex others. But I'm just going to say it: John Cena is confusing me. After calling off his own wedding with Nikki Bella, Cena co-hosted the Today Show with Kathie Lee Gifford and Hoda Kotb on Tuesday, May 15, and talked about the royal wedding. That's when the world found out that John Cena wants to walk Meghan Markle down the aisle. Granted, he was definitely joking about it (I hope), but isn't it just a little too soon for jokes, considering his wedding was supposed to go down just a few short weeks ago?
Maybe I'm just overreacting, but Cena and Bella broke everyone's hearts when they decided to let their fans know that they were splitting up, and their destination wedding, which was set for May 5 in Mexico, was off. In a joint statement provided to Us Weekly on April 15, the couple revealed that their decision was a tough one, but asked that fans respect their privacy while they navigate through this difficult period:
While this decision was a difficult one, we continue to have a great deal of love and respect for one another. We ask that you respect our privacy during this time in our lives.
It was beyond heartbreaking, and many were saddened by the news.
So now, just one month since their relationship has ended, Cena made an appearance as co-host on the Today Show, and apparently has jokes when it comes to walking down the aisle — you know, the thing that he was set to do, and then backed out of.
Cena, Gifford, and Kotb started talking about the drama that Meghan Markle's father reportedly caused. Just a quick recap: He staged some hammy photos preparing for the wedding and then dropped out of walking his daughter down the aisle, partly out of embarrassment, and also because he reportedly suffered a heart attack and needs urgent surgery. Elite Daily reached out to Kensington Palace for confirmation on the report but did not hear back by the time of publication.
When the talk show crew connected with NBC's royal correspondent, Keir Simmons, about the royal wedding that's taking place on May 19, Simmons joked about perhaps having Cena "intervene" and diffuse the situation, saying, "Hey John — this wedding, we're going to have the Royals, we're going to have Diana's family, the Spencers, now we're going to have the Markle family. I think we may need you here, my man, to intervene."
Cena responded by saying, "It seems like there is some drama that is in need of a special guest referee."
OK, OK, I can hear the sarcasm, so I'll let it slide. But then Gifford keeps up with the joke, and said, "She [Markle] is in need of someone to give her away, isn't she? Who better than you?"
"I can hop on a plane, I can get there in a few days," Cena replied.
Call me old-fashioned, but I just feel like talking about hopping on a plane to escort someone down the aisle mere WEEKS after calling off your own wedding is just too soon, even if you are only joking about it. Sort of wondering how Nikki Bella is feeling about this interview right now.
But considering that there are new reports that the two might actually get back together again, I'd say that she's probably unfazed by the whole thing.
In an interview with Hoda Kotb and Kathy Lee Gifford on Today, Cena made everyone go wide-eyed when he said that he wants to be a dad and husband to Bella, despite reports that he initially wasn't sure if he could be those two things for her. He said,
I love her. I want to be with her. I want to make her my wife. I want to be the father of her children. I just want us to work.
As one would assume, Bella said she was "shocked" at these comments... but alluded to the idea of possibly getting back together someday. In an interview with Entertainment Tonight on May 14, she said,
John is such an amazing man. He really is the love of my life. I truly hope one day that we can work it out and get back together. I think there is hope.
You know what, guys? Who am I to meddle in between these two? You do your thang, John and Nikki. We really are in your corner.