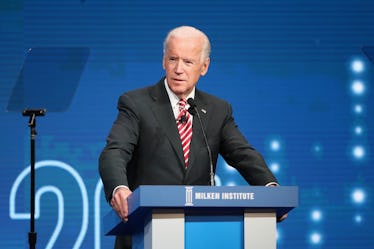 Joe Biden Calls Out Harvey Weinstein On Sexual Assault Allegations & Says His Behavior Is "Disgusting"
Frederick M. Brown/Getty Images Entertainment/Getty Images
On Wednesday, Oct. 11, former Vice President Joe Biden took on the subject of Harvey Weinstein and the multiple allegations of sexual assault that have been made against the veteran Hollywood producer. Biden didn't only condemn Weinstein, though — the former vice president had a message for those who knew about Weinstein's alleged behavior, particularly men. During a speech given at a fundraiser for the Anti-Violence Project, Biden said, according to BuzzFeed,
These women in Hollywood speaking out now did it to save other women from similar abuse. This disgusting behavior, at least on the part of Harvey Weinstein, has been brought to an abrupt and justifiable end. But it's long past time for the powerful men in Hollywood to speak up, to be strong enough to say something, because silence is complicity.
When reached by Elite Daily for a response to former Vice President Biden's criticism, a spokeswoman for Weinstein declined to comment.
Allegations Against Harvey Weinstein
Among "these women" to whom Biden referred, there are over two dozen people who have publicly detailed instances in which they claim the 65-year-old filmmaker had harassed them. When the first report came out from The New York Times last week, a lawyer who was then working with Weinstein said he "denies many of the accusations as patently false." In a statement to the Times, Weinstein said he was working on his behavior with therapists. The list of accusers features some of the most decorated actresses in show business, including Angelina Jolie, who wrote in an email to the New York Times,
I had a bad experience with Harvey Weinstein in my youth, and as a result, chose never to work with him again and warn others when they did. This behavior toward women in any field, any country is unacceptable.
Another who accused Weinstein of improper behavior is Suicide Squad star Cara Delevingne, who took to Instagram to allege an encounter in which Weinstein made unwanted sexual advances. In the post, the 25-year-old actress detailed an occasion during which Weinstein and an assistant allegedly implored her to go to his hotel room. Delevingne claimed,
At that moment I felt very powerless and scared but didn't want to act that way hoping that I was wrong about the situation. When I arrived I was relieved to find another woman in his room and thought immediately I was safe. He asked us to kiss and she began some sort of advances upon his direction.
Delevingne says she then abruptly began to sing, and afterwards told Weinstein she had to leave. At that point, she claimed, he tried to kiss her:
He walked me to the door and stood in front of it and tried to kiss me on the lips. I stopped him and managed to get out of the room. I still got the part for the film and always thought that he gave it to me because of what happened. Since then I felt awful that I did the movie.
In addition to Jolie and Delevingne's accusations, over a dozen allegations were detailed in a report from The New Yorker, including claims of rape. A spokesperson for Weinstein denied accusations of rape, telling The New Yorker that the accusations are "unequivocally denied" by the producer.
More From Biden
During his speech at the Manhattan fundraiser for the Anti-Violence Project — which benefits LGBTQ victims of assault — former Vice President Biden went on to label Weinstein's alleged actions the ultimate form of abuse. Biden said,
A man who had power over scores of women and their careers — the ultimate abuse of power in a disgusting, immoral, and inexcusable way. My father taught me the greatest sin that could be committed was the abuse of power, whether it was mental, physical or economic. And the ultimate — the cardinal sin — was for a man to use his power, physical or economic, to abuse a woman or a child. It's disgusting.
An audio recording of part of Biden's speech can be heard in the clip below:
While Biden implored men in Hollywood to speak out about sexual assault, there have been a couple that spoke about harassment that they experienced themselves. Terry Crews tweeted about an alleged assault of his own, and former Dawson's Creek star James Van Der Beek alluded to his experiences on Twitter.
On the other hand, a numbers of Hollywood's most notable men have chosen to remain silent on the issue, even when reached for comment. Meanwhile, other male stars who have responded — including names like Ben Affleck and Matt Damon — have faced criticism for the nature of their responses, which have been called hypocritical and insensitive.