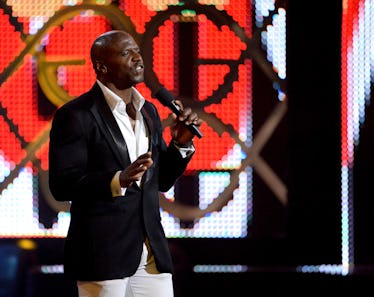 Terry Crews Opens Up About Assault, Highlighting Why We Need To Listen To Survivors
Kevin Winter/Getty Images Entertainment/Getty Images
Actor Terry Crews is many things: boisterous, funny, talented. But now, he's also speaking out on behalf of victims of sexual assault. Earlier today, Oct. 10, Crews tweeted about his personal experience with sexual assault, highlighting why it's difficult to speak out — and why it's essential to listen to survivors when they do come forward.
Crews tweeted that the Harvey Weinstein allegations — that the Hollywood producer allegedly is and has been an aggressive sexual predator, using his power and influence to victimize women for decades — were giving him post-traumatic stress disorder (PTSD).
"Because," Crews wrote, "this kind of thing happened to ME."
(Weinstein released a statement to The New York Times on Oct. 5 apologizing for his behavior, though not mentioning sexual assault, and saying that he was seeking help.)
To have Crews come forward and say, "This happened to me, it is real," is something of a watershed moment.
It's not just another actor releasing a bland statement about how horrified he is. Crews is using his personal horror to make it safer for survivors without the same visibility and power to come forward and say, "Me too."
Crews proceeded to share, in a 16-tweet thread, his experience: at an industry party, a "high level Hollywood executive" approached Crews and groped his privates. Crews jumped back, surprised. His wife also witnessed the assault.
He wrote that his initial instinct was to punch his assaulter, who continued to grin, but then he considered the optics of a "240 lbs black man" attacking a "Hollywood honcho."
After discussing the man in question with other actors who had worked with him — similar to the whispers and warnings about Weinstein that reportedly circulated in Hollywood for decades — Crews ultimately decided to drop it.
Crews said he didn't want to be ostracized, to find himself without work if he pursued action against his assaulter.
Think about that for a moment: An incredibly popular actor, who has a high-profile gig on a beloved television show, was afraid there would be consequences — that if he spoke out, he would be putting his career at risk.
Now imagine being someone who doesn't have the same capital or name recognition as Crews. This kind of fear is often realized by survivors of sexual assault, especially if the assaulter is in a position of power.
Fear of retribution is a devastatingly common reason survivors cite for not reporting sexual assault and sexual harassment. ABC News reports that only 6 to 13 percent of victims of sexual harassment attempt to take formal action of any kind, largely due to fear of some form of punishment for speaking up.
The Maryland Coalition Against Sexual Assault also cites fear of reprisal, belief that the police would or could not do anything to help, not enough proof, fear of a lack of evidence, and belief that the crime was not "serious enough." There's a common thread here: survivors of sexual assault (the overwhelming majority of whom are women) are afraid they won't be believed or that they will end up being the ones who suffer.
So the fact that Crews "let it go" is unsurprising.
In fact, he wrote, "I understand why many women who this happens to let it go... Who's going 2 believe you? ( few) What r the repercussions?(many) Do u want 2 work again? (Yes) R you prepared 2b ostracized?"
Ultimately, the actor wrote to his fellow survivors of assault, "You are not alone."
Crews' story is important for myriad reasons, not least of which is that he confronts the very stereotype of "who gets assaulted."
There's an incredibly damaging notion out there that only women are sexually assaulted, especially women who were "asking for it" or who "didn't fight hard enough." In fact, one of Weinstein's alleged victims, Lucia Evans, told The New Yorker that she was worried she "didn't try hard enough." Rape culture is so deeply ingrained in our society that she blamed herself for Weinstein's alleged actions.
Elite Daily reached out to Weinstein's rep, but had not heard back by the time of publication.
The reality is that 1 out of every 10 rape victims is male, and about 3 percent of men have experienced attempted or completed rape in their lifetimes, according to the Rape, Abuse & Incest National Network (RAINN).
So Crews's experience shows us that men, too, are often victims. And by sharing, in detail, what happened and why he didn't report, he's building a bridge between his experience as a man and the experiences of women who have reported and been accused of lying.
But the responses to his tweets also speak to some larger social ills when it comes to talking about sexual assault.
Crews is being lauded for his bravery — as he should be — but when women come forward with accusations of sexual assault, they are often derided, abused, and even threatened in some instances. Actress Amber Tamblyn penned an op-ed in The New York Times recently about the epidemic of sexual assault — and the refusal to believe women when they come forward.
She wrote, "Women do not get to have a side. They get to have an interrogation. Too often, they are questioned mercilessly about whether their side is legitimate."
Crews is in a unique position of power: While he and Tamblyn are both actors with large social media followings and robust careers, Crews has a lot of male fans. That last part is important, because study after study shows that men don't trust women to tell the truth — especially when it comes to sexual assault.
Fifteen — 15 — women came forward to allege that President Donald Trump had assaulted them, and they were accused of playing politics and doing it for the attention. Same with Bill Cosby's accusers.
And now, Harvey Weinstein's accusers are getting the same treatment, despite the fact that Weinstein admitted in a bizarre statement to The New York Times that he had "a problem" and was seeking therapy. He did not clarify what his problem was and never explicitly mentioned sexual assault, harassment, or groping, but The New Yorker released a recording from a 2015 NYPD sting operation in which Weinstein admitted to groping a woman.
Pam Gionfriddo of the Mental Health Association of Palm Beach County told The Palm Beach Daily News that "women are not really paid attention to when they are making these accusations."
At the same time that Crews is getting kudos, people are also accusing famous actresses of being at fault for Weinstein's allegedly predatory behavior because they didn't come forward sooner. Angelina Jolie, for example, alleged that Weinstein made unwanted advances, but she only came forward after the Times and New Yorker pieces came out. More than a few people demanded to know why she didn't come forward before if this alleged assault happened, and wasn't it kind of her fault that more women were assaulted after her since she waited?
So perhaps Crews is in a unique position to help men develop empathy and understanding — to start believing people, women especially, when they say these horrible things have happened.
Sharing these stories is empowering to other survivors and shines a light on an epidemic that thrives on secrecy and fear. There is safety in numbers. What Crews did was brave, but it's just the beginning. We have a long way to go — and a lot of stories to tell — before we start dismantling rape culture and believing survivors.