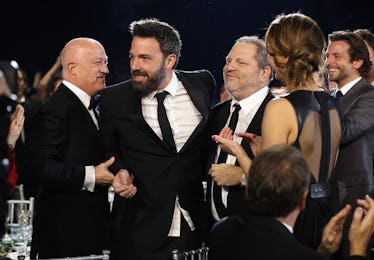 Ben Affleck Is Facing Backlash For His Harvey Weinstein Statement For Many Reasons
Christopher Polk/Getty Images Entertainment/Getty Images
Hollywood is up in flames over the allegations of sexual misconduct made against producer Harvey Weinstein, with many women who worked in film coming forward with firsthand accounts of alleged sexual misconduct. With the reports of these allegations, public figures have been expressing their shock and disdain for Weinstein's alleged actions — although some who have worked or been associated with Weinstein are claiming they were in the dark about the decades of allegations. Meanwhile, the public is calling on those who made their fame thanks in part to Weinstein to speak up. One of the Hollywood actors who owes Weinstein for his rise to fame is Ben Affleck. After five days of saying nothing, Affleck released a statement on Weinstein, and he's getting backlash for it.
The initial allegations were released on Oct. 5 by The New York Times, in which actress Ashley Judd, as well as other female assistants and employees, came forward with allegations of sexual misconduct against Weinstein. In response, Weinstein released a statement saying,
I appreciate the way I've behaved with colleagues in the past has caused a lot of pain, and I sincerely apologize for it. Though I'm trying to do better, I know I have a long way to go.
In the same report, Lisa Bloom, a lawyer advising Weinstein, said, "he denies many of the accusations as patently false." Since this initial report, Bloom has resigned and Weinstein has been fired by the Weinstein Company. New allegations were released on Oct. 10 from the New York Times and the New Yorker, including accusations from Gwyneth Paltrow and Angelina Jolie.
In a statement to provided to Elite Daily and other outlets on Tuesday, Sallie Hofmeister, Weinstein's spokeswoman, said he denied the accusations, saying,
Any allegations of non-consensual sex are unequivocally denied by Mr. Weinstein. Mr. Weinstein has further confirmed that there were never any acts of retaliation against any women for refusing his advances. Mr. Weinstein obviously can't speak to anonymous allegations, but with respect to any women who have made allegations on the record, Mr. Weinstein believes that all of these relationships were consensual. Mr. Weinstein has begun counseling, has listened to the community and is pursuing a better path. Mr. Weinstein is hoping that, if he makes enough progress, he will be given a second chance.
Affleck released a lengthy statement about the allegations on Wednesday, Oct. 10, in a post on Twitter expressing remorse and support for actresses and calling the allegations "unacceptable."
He said,
I am saddened and angry that a man who I worked with used his position of power to intimidate, sexually harass, and manipulate many women over the decades.
He went on to say that the news of more allegations, with the reports that came out after the initial New York Times article, "made me sick." He closed with,
We need to do better at protecting our sisters, friends, co-workers, and daughters. We must support those who come forward condemn this type of behavior when we see it and help ensure there are more women in positions of power.
The backlash started immediately as the public recalled allegations of sexual harassment made against Affleck's brother Casey, who won an Oscar this year.
Two female co-stars of Casey's, the star of Manchester by the Sea, filed sexual harassment suits against him in 2010, one women suing him for $2 million, the other for $2.5 million. Both cases were settled in court for an unknown sum. Casey denied both claims. After Affleck's statement, Twitter was quick to remind him of his brother's allegations.
Then, actress Rose McGowan, Affleck's co-star in 1997's Going All The Way and 1998's Phantoms, tweeted a concise response.
McGowan went on to accuse Affleck of knowing about the allegations years ago, and doing nothing. She accused Affleck in a tweet saying,
"GODDAMNIT! I TOLD HIM TO STOP DOING THAT' you said that to my face. The press conf I was made to go to after assault. You lie.
Affleck has yet to respond to McGowan's tweet, however the New York Times reached out to McGowan to confirm that she accused Affleck of lying about knowing that Weinstein had mistreated McGowan. To which she replied, "I am saying exactly that." Elite Daily reached out to Affleck for comment but did not hear back at time of publication.
It doesn't get better for Affleck from here. On Oct. 11, the backlash continued when actress Hilarie Burton claimed Affleck groped her during his appearance on MTV's Total Request Live, which Burton hosted in 2003.
On Twitter, someone wrote that Affleck may as well have "kept quiet," about the Weinstein allegations, while another wrote, "He also grabbed Hilarie Burton's breasts on TRL once. Everyone forgot though." Burton, who was 21 years old when Affleck allegedly groped her, responded by saying, "I didn't forget." She tweeted a follow-up response saying, "Seriously, thank you for that. I was a kid."
She then tweeted a video of TRL outtakes in which she says, "He comes over and tweaks my left boob," which allegedly is referring to Affleck.
Affleck responded to Burton's accusation, saying in a tweet,
I acted inappropriately toward Ms. Burton and I sincerely apologize
The New Yorker published an undeniably damaging article in which three women alleged that Harvey Weinstein raped them, and four more women accused the Hollywood producer of unwanted touching. Weinstein has been associated with some of the biggest male names in Hollywood, and only a few of those men have come forward to condemn these allegations, among those George Clooney and Affleck. Matt Damon, whose fame also has been accredited to Weinstein, spoke out only to defend himself from knowledge or association with the allegations.
The majority of Hollywood voices that are speaking out are female. Actresses like Gwyneth Paltrow and Angelina Jolie went on the record for the New York Times, and other women like Julianne Moore, Ashley Judd, and Jessica Chastain have been speaking out in solidarity with the women accusers.
Even Hillary Clinton, who has been criticized for her friendship and accepting support for her campaign from Weinstein, has expressed condemnation and shock for these allegations. The producer's future in Hollywood is unclear, considering this isn't the first time that accused male abusers in Hollywood have walked away with an unharmed reputation and career. However, thanks to the accounts of brave women, and the public's reaction to these allegations, Weinstein's reputation is unlikely to be repaired or forgiven any time soon, if ever.