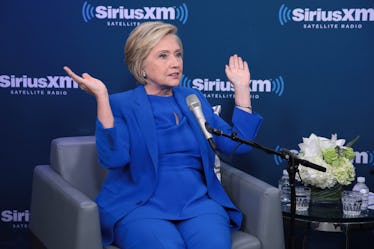 Hillary Clinton Responded To Harvey Weinstein Allegations, But It's Ridiculous She Had To
Cindy Ord/Getty Images Entertainment/Getty Images
After a series of claims of sexual harassment and assault were made against Hollywood mega-producer Harvey Weinstein, starting with a New York Times report last week, Hillary Clinton has responded in a statement. Clinton's response to the Weinstein allegations, which was posted to Twitter by her communications director, Nick Merrill, on Tuesday, Oct. 10, says that she was "shocked and appalled by the revelations." The former Secretary of State goes on to discuss the impact on women of Weinstein's accused behavior.
In a statement in response to The New York Times, Weinstein said his behavior was a result of his generation and said he is working with therapists to improve. Lawyer Lisa Bloom, who was representing him, said he "denies many of the accusations as patently false," and Weinstein threatened to sue The New York Times. Bloom has since resigned as his adviser, and Weinstein has since been fired by the Weinstein Company.
Clinton's statement reads in full,
I was shocked and appalled by the revelations about Harvey Weinstein. The behavior described by women coming forward cannot be tolerated. Their courage and the support of others is critical in helping to stop this kind of behavior.
Her response comes days after The New York Times initially reported accounts of sexual harassment by Weinstein, who has been a major facet of Hollywood for two decades. Weinstein is also a noted Democrat who has publicly supported Democratic candidates and campaigns, including those of former Secretary of State Clinton. The original Times article noted that Weinstein hosted a fundraiser for Clinton last year and employed Malia Obama as an intern.
Because of this connection, political commentators, including CNN's Chris Cillizza, have decided that Weinstein's reported behavior is now the Democratic politicians' responsibility. Many Republican commentators have called on Democrats to speak out against Weinstein, and many Democrats have given Weinstein's donations to them to charity in response. Cillizza wrote,
And it's hard to see how Obama and the Clintons — Weinstein is a long time pal of Bill and Hillary — can avoid putting out statements condemning him for his behavior.
Now, Cillizza and his compatriots have their wish with this statement from Clinton. Cillizza's call for Clinton to speak up has some amount of logic: If you're associated with a person who does something bad, it's generally seen as moral to speak out against them.
On the other hand, it's worth asking why, exactly, Clinton was so heavily pressured to issue a statement. As the allegations against Weinstein pile up, gendered language joins it, condemning women for "not speaking up sooner" and/or for "not speaking up quickly enough" after the allegations officially came out.
What we are witnessing is women being held responsible for the bad behavior of men.
To get this out of the way, there are plenty of reasons for women to not have spoken up sooner on the allegations of sexual assault and harassment against Weinstein. Weinstein controlled a swathe of Hollywood for 20 years. Per the reports, he allegedly targeted vulnerable women at the start of their careers. Who do you think had more power there?
While folks shouted at women for not speaking up quickly enough, they were slow to condemn the men of Hollywood for the same. In fact, The Guardian reached out to 26 male actors and directors who worked with Weinstein, including Brad Pitt, Leonardo DiCaprio, Quentin Tarantino, Martin Scorsese, and others, and none commented on the allegations at the time of publication.
When it comes to Clinton, once again, her detractors are claiming that she is a "phony" feminist — a point widely made by Republicans during the 2016 election — only this time, she's a "phony" for not speaking up quickly enough against a man who gave her money. This criticism is especially rich coming from Republicans, given that Donald Trump has been accused of sexual assault by plenty of women and was famously caught on tape bragging about what amounts to sexual assault. (Also a good reminder that atrocious behavior by men is non-partisan.) Trump denied the allegations made against him last fall, appearing to cite their physical appearance in his denials during a rally, and threatened to sue the women who made them.
What responsibility does Clinton have for Weinstein's alleged behavior? Ultimately, it is Weinstein alone who is responsible for his behavior, and there are cases to be made that many were complicit in maintaining his position of power that allowed him to enact his alleged harassment. But Clinton (and the other Democratic politicians who had support from him) isn't even in the same industry as Weinstein.
It's admirable that she issued this statement in terms of solidarity with women, but the pressure put on her to do so came from sexist and hypocritical places, the same places criticism against Clinton has come from for decades. Believe it or not, women — even Hillary — are not responsible for the bad behavior of men. Save your condemnation for the people actually committing and enabling the acts.