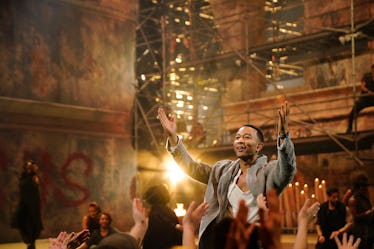 'Jesus Christ Superstar Live' Has Some Sneaky Differences Only True Fans Will Spot
Paul Lee/NBC
The day has finally arrived! On April 1 the world witnessed the incredible John Legend play Jesus Christ in a personal favorite musical of mine, Jesus Christ Superstar. It's important to highlight that this production is one unlike anything that's ever been seen before, as this was made for TV and branded at Jesus Christ Superstar Live in Concert. So what did we get from Jesus Christ Superstar Live versus the original Jesus Christ Superstar?
Clearly there were some necessary adjustments that needed to be made because of the nature of this production. There are things that a live stage actor doesn't think about that these actors performing tonight needed to. Things like paying attention to different cameras and camera angles, and incorporating 360 degree spacial awareness when performing needed to be considered.
The biggest difference between a stage production and this production of Superstar is the feel of the April 1 show, which was performed like an actual rock concert in an amphitheater with a live pit audience at the New York State Armory in Brooklyn, according to Variety. The stage setup included a "mosh pit" area that was central to tonight's performance, and more than 1,300 lucky viewers were in attendance.
But there are other obvious differences, particularly when comparing tonight's show with the original 1971 Broadway production. Jesus Christ Superstar was actually crafted by Andrew Lloyd Webber and Tim Rice as a 1970 concept album, which was then later adapted into a musical. According to Playbill, the show had a very successful run of over 700 performances before it closed in 1973. Since then the musical has been adapted as a film and inspired many other productions, including a recent Broadway revival in 2012.
The biggest major difference is that tonight's show featured John Legend as Jesus, which is absolutely huge. When it was announced in December 2017 that Legend would be filling the role, fans completely flipped out in excitement — and I mean who wouldn't? NBC's chairman of entertainment Robert Greenblatt released a statement on the casting decision, saying "His casting is also groundbreaking as the traditional image of Christ will be seen in a new way." Obviously, this role has often been filled by a white actor, so the fact that Legend is playing Jesus as a person of color is very thrilling.
47 years has passed since the original production was performed, clearly the NBC version needed to make some changes to modernize the show. Since the show was performed in the style of a rock concert, the costumes reflected that. Much of the 2018 ensemble and a few selected leading actors wore rocker inspired ensembles, which included lots of leather. The 1971 production featured more traditional costume choices — think your local church's Christmas pageant style, but elevated because it was on Broadway, of course.
This year's version was a little more fun.
Aside from the costumes and the stage design, the show stayed pretty true to what it is. None of the songs were cut and they were performed with the upmost conviction and emotion. The way the show was innovated for today's day in age was absolutely perfect.
I could not be happier that this show was chosen as the latest made for TV musical orchestrated by a major network, not to mention the fact that it ws done so well. It's great that people across the country will get the chance to experience a musical that they might otherwise not have been able to see. As a musical theatre fan, I think everyone should be given this opportunity. So if you can't make it to New York City or can't afford a Broadway show, this is absolutely perfect.