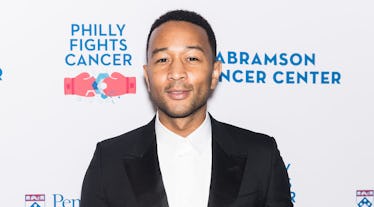 Hallelujah, John Legend Will Play Jesus In NBC's 'Jesus Christ Superstar Live'
Getty Images
It is going to be a very legendary Easter this year. NBC just announced John Legend will be taking on the title role of Jesus Christ in the network's next live musical Jesus Christ Superstar. The hit R&B singer is joining rock star Alice Cooper (who will play King Herod) in the live special, which will air on NBC on April 1, 2018: Easter Sunday. The rest of the cast is going to be announced in coming months. So I guess now we all have even more reason to rejoice! No word yet on if Chrissy Teigen will play Mary Magdalene.
This will be the first time John Legend has helmed a staged musical like this, although he does have Broadway experience having just produced a revival of August Wilson's play Jitney earlier this year. But of course, Legend is no stranger to showing off his soulful voice on live television. This performance could potentially also be massive for John Legend's awards shelf if it goes well, since it has the possibility of completing his EGOT. If you didn't know, an EGOT is considered the highest achievement in show business awards; the acronym stands for Emmy, Grammy, Oscar, and Tony. Legend won a Tony for Jitney this year, an Oscar for his song "Glory" that featured in Selma in 2015, and he has 10 Grammys under his belt already. All that is left is for Legend to win an Emmy, which playing Jesus Christ in a televised event could definitely get for him.
Jesus Christ Superstar is a 1970 rock opera penned by musical legend Andrew Lloyd Weber, which has gone on to be staged in countless revivals since then. The story centers on the crucifixion of Jesus Christ, focusing largely on Judas' betrayal that led to the execution. Of course, Easter is the perfect time for NBC to air their version of Jesus Christ Superstar, since retellings of the crucifixion story are a central part of that Christian holiday.
NBC's chairman of entertainment Robert Greenblatt released a statement on Legend's casting decision, which addresses the fact that the network wanted to show audiences something other than the "traditional image of Christ":
This score demands a singer with an amazing range and an actor with great depth, and there isn't anyone better to bring this story to a new audience. His casting is also groundbreaking as the traditional image of Christ will be seen in a new way.
Right after the casting announcement was made, Twitter exploded in fans sharing their excitement for the upcoming live event. Even Hamilton creator Lin-Manuel Miranda got into the elation over John Legend's lead role. Check out some of the best responses:
Jesus Christ Superstar's creator Andrew Lloyd Weber also tweeted about how thrilled he was to have John Legend join the cast — Weber is also producing the NBC live staging — and Legend himself responded with glee over Weber's message:
Jesus Christ Superstar Live will be the fifth live musical adaptation that NBC has televised. The network began filming about one adapted musical special per year back in 2013 when Carrie Underwood starred in The Sound of Music Live. Since then, NBC has televised live adaptations of Peter Pan, The Wiz, and Hairspray. Fox has also begun putting on live musical adaptations, with its list including adaptations of Grease, The Passion, The Rocky Horror Picture Show, and the recent A Christmas Story.
With only two cast members announced, Jesus Christ Superstar Live still has yet to reveal who will be playing the standout part of Judas, so we will have to keep watching for that announcement. Also, hopefully John Legend's casting means that Chrissy Teigen will be live-tweeting Jesus Christ Superstar Live when is airs on April 1!