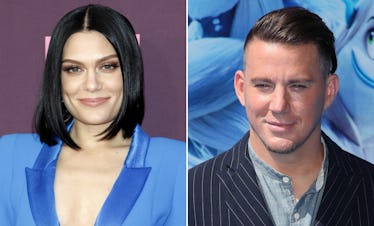 Jessie J Shouted Out Channing Tatum On Instagram, So Their Relationship Is Basically Official
Tibrina Hobson & David Livingston/Getty Images Entertainment/Getty Images
I'm not trying to be a diva but I would appreciate it if Channing Tatum at least thought about calling me to fill me in on his love life before I had to find out on Instagram. Seeing that he and Jessie J are basically the real deal via social media hurts me on a personal level, y'know what I mean? Still, there's no denying that Jessie J's Instagram post shouts out Channing Tatum, and you'd have to be in total denial to think they weren't an item, right? This also isn't the first time they've popped up somewhere as a duo. It's just the first time I'm being faced with it directly. (This is about me, you guys. How can I make that more clear?) Elite Daily reached out to both Jessie J and Tatum's teams for comment on their relationship status, but did not hear back by the time of publication.
Fans know Tatum and his ex-wife of eight years, Jenna Dewan, announced their split in April 2018. According to E! News, Dewan officially filed for divorce just before Halloween. As for Jessie J, she and Tatum have actually been linked together for about a month as of mid-November. Tatum reportedly attended a few of Jessie J's concerts and the pair was even reportedly spotted playing mini golf in Seattle on Oct. 6. Now, Jessie J gave Tatum a major shoutout from London where she appears to be catching the British production of Magic Mike Live.
Jessie J posted a photo of the Magic Mike Live stage complete with dancing shirtless men. She captioned the photo, "Magic Mike London Opening night. Congratulations @channingtatum what a show... Ladies and Gentlemen you don't want to miss this."
Uh, so, yeah. It looks official from here.
Back in October, an insider told E! Tatum was doing his best to be around the singer. "They've been hanging out a lot lately and he's excited about seeing her. She's on the road, but he is very interested in getting to know her and doesn't mind tagging along," the insider said. "He's making a lot of effort and wants to spend as much time with her as he can. He's having fun with it and seeing where it goes. He's known her for a while and always thought she was very talented."
Fortunately, it really does sound like Tatum and Dewan are in a peaceful place. E! reports the two reunited to take their daughter Everly trick-or-treating for Halloween. Plus, Dewan is also dipping her toes into the dating pool. According to the report, Dewan has reportedly been dating Tony-award winner Steve Kazee "for a few months." The insider explained,
She was introduced to him by mutual friends and they hit it off right away. Jenna really likes him and is very happy. She has completely moved on from her marriage and is happy to have met someone new. Steve treats her very well and is doing everything right. She's hopeful about the future, but not getting too far ahead of herself.
Ok, great.
All's well that ends with topless men dancing on a stage. That's what I always say.