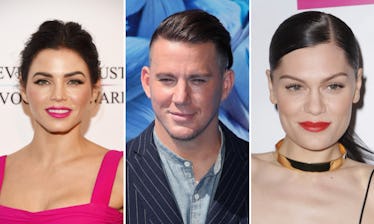 Here's How Jenna Dewan Reportedly Reacted To Channing Tatum & Jessie J Dating Rumors
Amanda Edwards & David Livingston & John Parra/Getty Images Entertainment/Getty Images
I'm not trying to say Channing Tatum has a type. I'm just going to say that his rumored new girlfriend has suspiciously similar characteristics to his ex-wife. Despite my personal feelings about Channing Tatum dating Jessie J, Jenna Dewan is A-OK with it. Jenna Dewan's reaction to Channing Tatum and Jessie J dating rumors is super mature, according to reports, and it's teaching me a lesson in non-petty behavior. (I hate being an adult.) Elite Daily reached out to Dewan's team for further comment but did not hear back by the time of publication.
If you guys have somehow miraculously moved on and forgotten, let me jog your memory. Dream duo Channing Tatum and Jenna Dewan called it quits after nearly nine years of marriage in April 2018. The two released a joint statement ensuring fans there is no bad blood between them, explaining they are "just two best-friends realizing it's time to take some space and help each other live the most joyous, fulfilled lives as possible." Most of us spent the following few weeks watching Step Up on repeat, but it looks like Tatum and Dewan were busy moving on.
According to Us Weekly, Tatum has since been reportedly seeing Jessie J casually for "a few months," though he's only recently reportedly been spotted at a few of her concerts beginning in early October. The two celebrities were also reportedly caught playing mini golf together in Seattle on Saturday, Oct. 6. Now, a new source is telling the publication Dewan is "just fine" with her ex-husband moving on. According to the source, Jessie J and Tatum's relationship is "new, casual and they're having fun."
"They split because they knew they shouldn't be together anymore, and they've both moved on and are fine with their lives now," the insider said. "They're both dating other people and are both doing just fine with it, and they are co-parenting Everly the best anyone could ever ask for."
In July, just three months after their separation announcement, Dewan participated in an open and honest interview with Women's Health magazine. During that conversation, she spoke a little bit more about her personal transformation and how the stigmas surrounding divorce are not always the reality. "It's been a transformation of myself — my needs and wants as a woman," she said. "I think everyone wants to hold on to what's in front of them, but when you open your mind, saying, 'I want what's best for myself and my daughter,' you have to be OK with however that looks."
Dewan added,
It's OK for a relationship to change into a new form that is actually better for both people involved, and I think that's maybe what shocked everyone so much — that it can be a positive thing. That was ultimately what happened with us.
Dewan also described this period of personal change as a "wave of growth."
"It does look different; it's a new normal, and I really think we'll get used to that," she said. "It's always challenging to go through a big change and have the whole world have an opinion about it."
OK, fiiine! Being a kind, mature, non-impulsive adult who doesn't take celebrities' personal life matters personally is so hard!
I love to love you, Jenna.