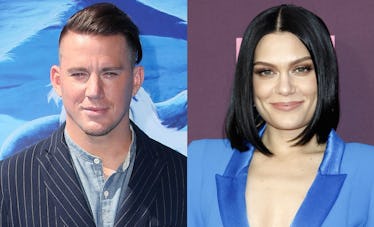 Channing Tatum May Be Moving On From Jenna Dewan With Jessie J
David Livingston/Tibrina Hobson/Getty Images
There might be a new celebrity couple floating around Hollywood. Are Channing Tatum and Jessie J dating? According to reports, they've been spending time together and getting to know each other more. Elite Daily reached out to Tatum and Jessie's teams for comment on this reported relationship, but did not hear back by the time of publication. Is anyone else... truly thrown for a loop by this one? No shade to Channing Tatum or Jessie J, but this is the most random thing I've heard in a while.
The two stars have apparently known each other for several years but have only been dating for a few months. Jessie is currently on tour, and, according to a report by Us Weekly, Tatum was reportedly seen at her recent concert in Seattle on Oct. 6 and her concert in Salt Lake City on Oct. 8. They also were reportedly seen mini golfing in Seattle.
"They've been hanging out a lot lately and he's excited about seeing her," another source told E!Online. "She's on the road, but he is very interested in getting to know her and doesn't mind tagging along."
The source noted that Tatum is trying to spend time with her whenever possible and that they're having a good time keeping things casual for now. "He's making a lot of effort and wants to spend as much time with her as he can," they said. "He's having fun with it and seeing where it goes. He's known her for awhile and always thought she was very talented."
David Livingston/Getty Images Entertainment/Getty Images
Leon Bennett/Getty Images Entertainment/Getty Images
Another source told E! News that they saw the actor and the singer at a restaurant called Henry's Tavern in Seattle. "They didn't kiss or have much PDA in person, but it definitely looked like they were a couple," the source revealed. "They were both smiling at one another. Overall, they were both trying to keep to themselves and were very polite to the wait staff."
People on Twitter are genuinely shook by this news.
Others think it's a cute pairing.
There are those who can't stop talking about how similar Jessie J and Jenna Dewan look...
Look, we all have a type. It's all good.
According to E! News, Tatum is currently "just interested in meeting people and dating" right now, so no confirmation that he and the singer are serious. Jenna Dewan is reportedly "feeling ready to move on and to get back out there" as well, according to the source.
Tatum and Dewan announced their split in April 2018, which has genuinely left me shocked. I literally thought this happened over a year ago. That's how much 2018 has aged me. Their announcement said,
We have lovingly chosen to separate as a couple. We fell deeply in love so many years ago and have had a magical journey together. Absolutely nothing has changed about how much we love one another, but love is a beautiful adventure that is taking us on different paths for now. There are no secrets nor salacious events at the root of our decision — just two best-friends realizing it's time to take some space and help each other live the most joyous, fulfilled lives as possible. We are still a family and will always be loving dedicated parents to Everly. We won't be commenting beyond this, and we thank you all in advance for respecting our family's privacy.
Bang, bang, there goes my heart. Too soon?