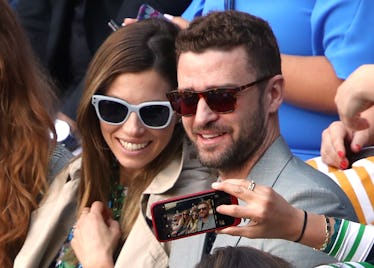 Jessica Biel & Justin Timberlake's Family Photos In Europe Are Giving Me Serious FOMO
Clive Brunskill/Getty Images Entertainment/Getty Images
Summer is coming to close, but that hasn't stopped our favorite celebrity couples from making the most of this last month or so. Ariana Grande and Pete Davidson are getting endless tattoos; Nick Jonas and Priyanka Chopra are celebrating their love in the mountains of California. I've hopped on a few planes, too, amongst fanning over these stars' next-level adventures. Right now, however, one particular couple should be all over your radar, as they've ended the summer, and a certain Man of the Woods tour, on such a high note. At least, that's what Jessica Biel and Justin Timberlake's Europe pictures are saying to the world. Does anyone else have serious FOMO?
This summer, Timberlake has been going hard on the European leg of his tour for his most recent album. Biel and the couple's son, Silas, went along for the ride as well. According to E! News, the family has been riding boats in Sweden, showing off their matching hairstyles in Paris, and walking along the beach in the Netherlands. Now, that's a family vacation that's straight #goals.
Although Timberlake has been posting pictures, too, Biel has really captured even the smallest moments, turning her social media into one big travel diary. From snaps at an art museum to drool-worthy pics from the London Eye, Biel is making me wish I were a part of this family so badly. There's even a little video of Timberlake and her tossing a football on the beach — because, when they're not on stage or doing photo shoots, they really are people, too.
Hey, at least the fam is nice enough to share these sweet shots, since, you know, we can't all be there with them. Biel documented everything in a few albums worth of pictures on her Instagram account. She captioned the first of these roundups, "And that's a wrap on the European leg of the #MOTWTour and I'm already nostalgic. Europe, you're a dream."
Is any trip that involves the Mediterranean Sea, or a pizza with the most perfect rounds of mozzarella (all seen in Biel's Instagram post below) anything less than a dream? I'm starting to think not.
While Timberlake has been hard at work, popping from city to city for a different tour performance every night, Biel's had quite the month herself, as the second season of her series, The Sinner, premiered on USA on Aug. 1, 2018. Though Biel played the main character of the series' first season, Cora, she confirmed to The Hollywood Reporter that Cora's story would not continue in the second season. Instead, Season 2 follows Detective Harry Ambrose on another journey, as he investigates another strange murder — this time, involving a young boy and his parents. Luckily, Biel also confirmed to the publication that she would still be involved in producing the show.
Thankfully for all of us, this sweet couple can find time amidst their busy schedules to give us all the most FOMO with their adorable family vacay.
As for me, I'll just be hanging at home and dreaming about my own travels around Europe. Is it too late to book a plane ticket and pretend I'm a celebrity for a few days? Honestly, at this point, I'm about to channel every ounce of Jessica Biel and Justin Timberlake's summer. They were clearly living their #BestLife.