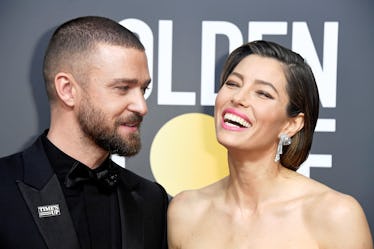 Jessica Biel Reveals How She Knew Justin Timberlake Was "The One" & BRB, Sobbing — EXCLUSIVE
Frazer Harrison/Getty Images Entertainment/Getty Images
I'll be the first to admit I didn't believe in "the one" for the first 23 years of my life. Then, the universe threw me the ultimate curveball: my girlfriend. Given the shaky ground of celebrity breakups and shake-ups lately, it's incredibly refreshing to remember that love does, indeed, still exist out there. A prime example? Jessica Biel and Justin Timberlake's relationship. Seriously, once you take a break from reading all the depressing breakup news out there and read how Jessica Biel knew Justin Timberlake was "the one," you'll switch out your "love is dead" cries for "LOVE IS SO BEAUTIFUL, I'M SOBBING" cries.
On April 9, 2018, at a sneak preview of The American Express Experience, an interactive installation taking you through all your fav parts of the interwebs, I had a chance to sit down with Biel, who hosted the event and gave me some insight into how she came to realize that Timberlake checked all her boxes as an amazing partner.
Biel tells me she "[doesn't] know if it was one particular thing" that signaled Timberlake was it for her. Rather, she says it was "an accumulation of so many things that [they] experienced together" that slowly made her realize he was the one.
"He just started to check off all these boxes: funny, kind, compassionate, loving, and driven," says Biel. "You know, you start to see somebody in the full scheme of a human and you go, 'Oh, wow, they're not missing anything here.'" Please, don't mind me while I cry buckets over Biel and Timberlake's love. It's Thursday, which means I am emotionally vulnerable and open to living vicariously through other people's happiness.
Overall, though, in terms of other reasons why Biel knew Timberlake was the one, Biel says it's not so easy to put into words. "It's hard to describe why you fall in love with somebody, but I think that's what it was," she tells me. "He became someone that I really trusted, and we got to be very good friends, and it just kind of blossomed from there." *Cue "Can You Feel The Love Tonight" softly playing in the background*
Even though we may not always get to hear about the ins and outs of our favorite celebrity relationships like this, thankfully, this couple isn't shy about showing their love for each other on social media. Recently, Biel posted a video on Instagram of Timberlake performing during his Man of the Woods Tour, with the sweetest, most supportive caption ever:
There's nothing better than watching your man do what they've been put on this earth to do. I'm so proud of you, man of the woods! #MOTWTOUR
If you haven't already started tearing up (what kind of monster are you?), know that Timberlake isn't afraid to get sentimental on social media either. Last year, on Biel's birthday, he shared an adorable snap of the two on Instagram, and I'm gonna be totally honest: I'm about two minutes away from tattooing this caption on my back. Someone talk me down from it.
You make me laugh. You make me smile. You make me LOVE. You make me want to be BETTER. Speaking of, it doesn't get any BETTER than you... Now, I know for sure that it's BETTER to be lucky than good. Ask me who the luckiest guy in the world is and I will tell you that you are looking at him. Happy Birthday, my heart. --J
I can't even see what I'm typing through my tears.
As we all search for love in our lives (not just in romantic partners, but in many places), take a page out of Biel's book and surround yourself with people who are "funny, kind, compassionate, loving, and driven"... oh, and maybe people who write adorable AF, tear-inducing things about you on Insta.